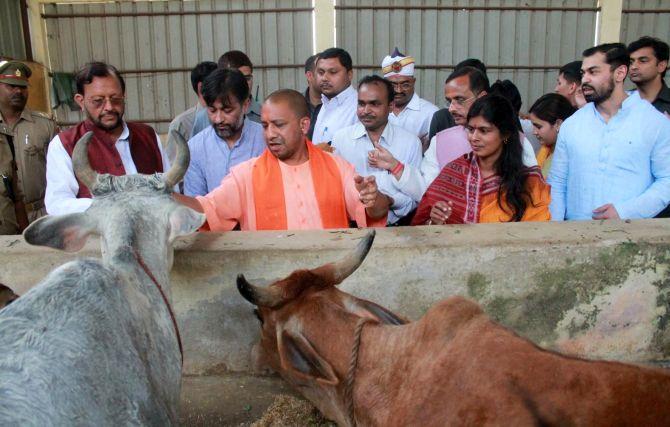 Days after a man was allegedly lynched in Rajasthan by cow vigilantes, Uttar Pradesh Chief Minister Yogi Adityanath said his government was "equally committed" to protecting human life and to the cow.
"We will provide protection to everyone. People are important, the cow is also important," he said.
"With laws already in place to protect cows and the government being responsive to this issue, violence in the name of cow protection would not be tolerated," he told news channels.
But he has also made clear in his remarks over the last two days that the government was committed to ensuring protection to cattle from smuggling and slaughter.
Referring to the incidents of mob lynching, the chief minister said, "No such case has been reported from Uttar Pradesh so far but wherever these are happening, they have to be stopped."
"However, cow smuggling and slaughter also should be stopped," he said
"Under no circumstances can we allow cow slaughter and smuggling. Everyone's faith must be respected."
Adityanath rejected the charge that stray cows were causing problems for farmers.
"The problem of stray cattle has existed in the state even before we came to power. In fact, it is our government which has created 'gaushalas' for cows in each district in the state," he said.
Adityanath's remarks come after the recent death of 28-year-old Rakbar Khan, who was lynched by a group of men in Rajasthan's Alwar district on suspicion of cattle smuggling.
Even while condemning the lynching, some Rashtriya Swayamsevak Sangh and Bharatiya Janata Party leaders have spoken against cow slaughter.
RSS leader Indresh Kumar said if the practice of eating beef was stopped, many "crimes of the Satan" could be curtailed, in an apparent reference to the incidents of mob lynching.
Union minister Giriraj Singh appeared to endorse Kumar's views, when he said the RSS leader must have made the comment after "proper thought".
Another BJP leader, Vinay Katiyar, said cows must not be killed "as Hindus get aggressive over it".
BJP MP Meenakshi Lekhi dubbed those raising the issue of lynching as "hypocrites", saying they have forgotten the 1984 anti-Sikh riots and the alleged "lynching of kar sevaks" in 2002 that triggered communal riots in Gujarat.