A two-time Rajya Sabha MP from Madhya Pradesh, Dave was known in the BJP as a man gifted with immaculate organisational skills.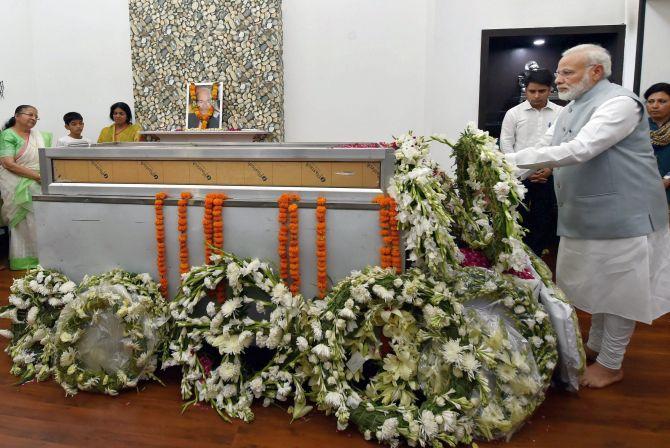 IMAGE: Prime Minister Narendra Modi pays his last respects to the mortal remains of Environment Minister Anil Madhav Dave at his residence in New Delhi. Photograph: Vijay Verma/PTI Photo
Environment Minister Anil Dave, a long-time Rashtriya Swayam Sewak Sangh member best known for crafting the Bharatiya Janata Party strategy to unseat Congress stalwart Digvijay Singh as Madhya Pradesh chief minister in 2003, died in New Delhi on Thursday. He was 60.
The two-time Rajya Sabha member from Madhya Pradesh complained of uneasiness at his home on Thursday morning and was rushed to AIIMS where he passed away, according to official sources.
A senior doctor at AIIMS said, "The minister (Dave) was brought to AIIMS, New Delhi at around 8.50 am. He was brought in a state of cardiac arrest. All measures were taken to resuscitate him.
"He was declared dead at around 9.45 am," he said.
Sources said the body will be taken to his residence at Safdarjung road and kept there for a few hours after which it will be flown to Indore where the minister's brother lives.
The news of Dave, a bachelor, was broken by Prime Minister Narendra Modi in a tweet, who said he was with the minister until Wednesday evening, discussing policy issues.
"Absolutely shocked by the sudden demise of my friend & a very respected colleague, Environment Minister Anil Madhav Dave ji. My condolences," he said in the tweet. "The demise is a personal loss."
Harsh Vardhan is new environment minister
Science and Technology Minister Harsh Vardhan was given additional charge of Environment Ministry, due to sudden demise of Anil Madhav Dave.
President Pranab Mukherjee, as advised by Prime Minister Narendra Modi, has directed that Harsh Vardhan, Cabinet Minister shall be assigned the charge of the Ministry of Environment, Forest and Climate Change, in addition to his exiting portfolios, a press release issued by Rashtrapati Bhavan said.
Harsh Vardhan is also the Minister of Earth Sciences.
Dave was sworn in as minister with independent charge of environment, forest and climate change last year. He was a member of the Rajya Sabha since 2009.
Dave had a long-time association with the Rashtriya Swayam Sewak Sangh and shot into prominence in 2003 when he crafted the election strategy, leading to the defeat of Chief Minister Digvijay Singh.
National Flag will fly half-mast on all government buildings in Delhi and all state capitals on Thursday in view of the demise of Dave.
President Pranab Mukherjee expressed shock at the sudden demise of the minister.
Modi said Dave will be remembered as a devoted public servant who was tremendously passionate towards conserving the environment.
Home Minister Rajnath Singh said he was saddened to learn of the demise of the minister.
"Dave was very active and sensitive to issues pertaining to environment. His dedication to work was highly appreciated. I offer my heartfelt condolences to the members of Anil Dave's family," Singh said.
Finance Minister Arun Jaitley also expressed grief over the demise of Dave.
BJP president Amit Shah said Dave's contribution to Indian politics and environment conservation was incredible.
"Shocked and deeply pained by the sudden demise of our senior leader Anil Madhav Dave ji. Deepest condolences to his family & friends.
"His organisational skills and connect with grassroots karyakartas (workers) was unparallelled. He always met me with a warm smile on his face," he said in a series of tweets.
Union Law and IT Minister Ravishankar Prasad remembered Dave as a "valued colleague and outstanding MP dedicated to cause of environment & sustainable development".
BJP MP Anurag Thakur said Dave was "a devoted and passionate environmentalist and conservationst who gave his life to public service".
MoS Home Kiren Rijiju called him the "perfect definition of a gentleman and good human being" and added that he will "forever miss his smiling character".
Minister for Science and Technology Harsh Vardhan called him a "noble intellectual soul".
MoS Information and Broadcasting Rajyavardhan Rathore called him a "a prolific worker and a wonderful human being."
Congress vice President Rahul Gandhi too paid his tribute to the minister.
"V.sad to learn of the sudden demise of Union Min Anil Madhav Daveji. He worked tirelessly for Narmada conservation," he tweeted.
An expert in river conservation and a member of the parliamentary forum on global warming, environment was a subject close to the heart of Dave.
Dave was involved in social work right from his early days and founded NGO "Narmada Samagra" for conservation of the river.
As an NCC Air Wing Cadet he took his early flying lessons and found a lifetime passion. He was a holder of a private pilot licence and had once flown a Cessna aircraft around the banks of Narmada for 18 hours.
As Rajya Sabha MP, he has served as Member of Parliamentary Forum on Global Warming and Climate Change.
A post-graduate in Commerce from Gujarati College in Indore, Dave had keen interest in literature and had penned a number of books.
Dave was born to Pushpa and Madhav Dave at Barnagar, district Ujjain in Madhya Pradesh on July 6, 1956.
He inherited the legacy of the RSS from his grandfather Dadasaheb Dave and volunteered to be a Pracharak fter completing higher studies.
He rose in the Sangh echelons over the years and was deputed to the BJP, right before the Madhya Pradesh assembly elections in 2003.
The leader from Madhya Pradesh was key party strategist and served as chief of its election management committee for the three times during the state assembly elections in 2003, 2008 and 2013 and Lok Sabha elections in 2004, 2009 and 2014.
He was known for his booth-level management and planning.
Dave was elected to Rajya Sabha in 2009 and has been on various committees including Chairman, Select Committee on Prevention of Corruption (Amendment) Bill 2013.
Dave had also organised the World Hindi Conference in Bhopal and an international conference on the occasion of Simhastha (Kumbh) Mela in Ujjain.
'Don't erect memorials, plant a tree for me'
Do not erect a memorial when I die, but plant a tree if you loved and respected me, said Union Minister Anil Madhav Dave in his will.
Dave, who died on Thursday at the age of 60, had also expressed the desire to be cremated on the banks of the Narmada, a river that was close to his heart and ran through his home state of Madhya Pradesh
"Dave left a will in 2012 in which he said that his body should be cremated on the banks of the Narmada," an official source said.
The will also said if people loved and respected him, they should not erect a memorial in his name anywhere, the source said.
"Rather, they should plant a tree, he said in his will," the source added.