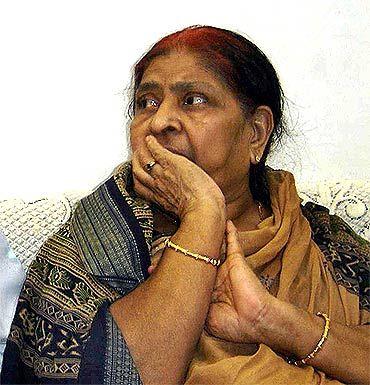 Citing amicus curiae Raju Ramachandran's report, Zakia Jaffery on Thursday claimed there was enough evidence to warrant a probe and trial against Gujarat Chief Minister Narendra Modi and others in connection with the 2002 post-Godhra riots despite a clean chit by the Special Investigation Team.
"There is sufficient evidence to proceed for a triable case, a case in which trial needs to be conducted," Jaffery's lawyer Mihir Desai said, quoting from Ramachandran's report.
Jaffery, whose husband and Congress leader Ehsan Jaffery was killed in the riots, has challenged the SIT's closure report before the magistrate's court. Jaffery, in her complaint to the Supreme Court, had accused Modi and others of involvement in the conspiracy behind the wide-spread communal violence.
Desai argued before Metropolitan Magistrate B J Ganatra that the meeting called by Modi following Godhra train burning incident of February 27, 2002, was attended by top bureaucrats and police officials who gave differing accounts of what transpired in the meeting to the SIT.
The then acting chief secretary Swarnakanta Varma didn't recall exactly what happened at this law and order review meeting, Desai said.
She told the SIT (set up by the Supreme Court upon Jaffery's complaint) that she didn't remember whether the chief minister had asked the police 'to go soft' on Hindu rioters, advocate Desai said.
Anil Mukim, another bureaucrat, told SIT that he left the meeting early, but ministers were coming and going, Desai argued. While other bureaucrats who attended the meeting, including the then Ahmedabad Police Commissioner P C Pande, told the SIT that no minister was ever present.
Varma and Mukim, who are not accused of any complicity by Jaffery, were telling the truth, while others who are accused were lying to save the government, Desai contended.
He further said that SIT did not record the statements of Indian Police Service officers Vinod Mall, Himanshu Bhatt and Samiullah Ansari who had stated before a citizen's tribunal comprising a retired Supreme Court judge and a judge of Bombay high court that Modi did ask police officers to go soft on Hindus.
During his interrogation by SIT on March 28, 2010, Modi admitted that he chaired this meeting at his residence. Further, he volunteered the information that IPS officer Sanjiv Bhatt was not present there, Desai said.
Bhatt had told the SIT that Modi, at this meeting, asked the police to allow Hindus to "vent their anger". But as SIT probe was confidential, why did Modi offer this bit of information about Bhatt without being asked by SIT, Desai said.
No minutes of this meeting were available, he said. Former minister Haren Pandya (who was later murdered) had also told the citizens' tribunal that Modi asked police officers to go soft on Hindus, Desai said.
The hearing on Jaffery's petition, which seeks further probe by an independent agency, will continue on July 24.