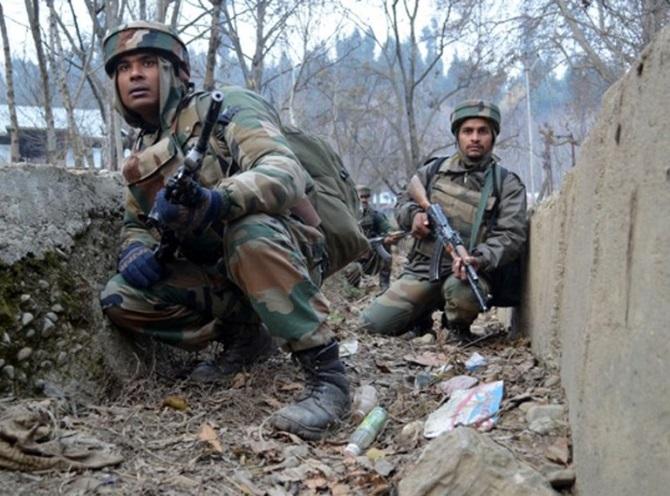 Two militants were killed in an ongoing fierce encounter in north Kashmir Kupwara district on Friday morning.
The gunfight erupted after the army and police jointly surrounded Bhat Mohalla area of Handwara on specific information about the presence of a group of militants there.
"Two militants have been gunned down by the army in an ongoing operation. Further details are awaited," a defence spokesman said.
He said the operation is still in progress.
Meanwhile, Governor of Jammu-Kashmir N N Vohra reviewed 'internal and external security management issues in a meeting involving civil, police, army and central intelligence agencies'.
The governor was informed about 'the redeployments undertaken to strengthen security management in the aftermath of the Pampore terror attack'.
An official statement issued said, "The director general of police and the heads of the security forces confirmed that the Multi Agency Security Audit of all important establishments and vital installations in the state, undertaken after the recent attack on Air Force Base at Pathankot, has since been completed and necessary actions have been taken."
"The meeting discussed various important issues relating to the effective enforcement of the Counter Infiltration and Counter Terrorism Grids along the International Border and the Line of Control in the Jammu and Kashmir regions and the earlier decided measures to be taken for maintaining internal order, particularly before, during and after encounters."
"In regard to enlarging awareness of the civilian population regarding the risks involved in gathering when operations are ongoing, the chief secretary informed that he had recently held a meeting with all district magistrates and superintendents of police to sensitise them about various important issues relating to security and law and order maintenance," the statement said.