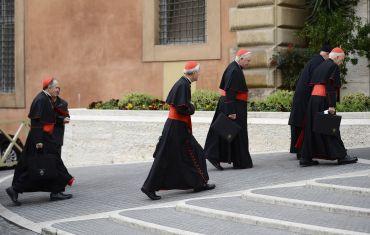 The Roman Catholic cardinals will begin electing a new pope on Tuesday, the Vatican announced on Friday after 115 cardinals gathered for talks, BBC reported.
Pope Benedict XVI stepped down last month after nearly eight years in office due to his failing health, becoming the first pope to resign in 600 years.
Under the rules of the secret conclave, cardinals will vote until one achieves a two-thirds majority.
"Correspondents say no one candidate stands out as Benedict XVI's likely successor," the report added.
The vote will be preceded by Mass on Tuesday morning, with the first ballot due in the afternoon, BBC quoted the Vatican press. Only cardinals younger than 80 are eligible to vote.
The Vatican staff have been preparing the Sistine Chapel, where the conclave will take place, installing the two stoves that will produce white smoke from burnt ballot papers when a new pope is elected.
"Since Monday, the cardinals have been uniting for what are known as General Congregations, a series of meetings in which they discuss the issues facing the church.
These include how to tackle the issue of child sex abuse by priests and a scandal over leaks from the Vatican last year that revealed claims of corruption within the Roman Catholic Church hierarchy, CNN reported.
Image: US cardinals (L-R) Daniel Di Nardo, Donald Wuerl, William Levada, and Francis George arrive for a meeting in the Synod Hall at the Vatican on Friday
Photograph: Dylan Martinez/Reuters