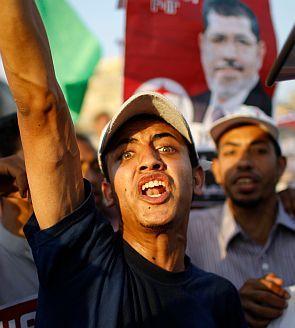 An Egyptian court on Saturday ordered the dissolution of the Freedom and Justice Party, the political wing of the already banned Muslim Brotherhood movement, in yet another crushing blow to Islamists after the ouster of president Mohammed Morsi last year.
Egypt's Supreme Administrative Court ordered the dissolution of the Freedom and Justice Party and the liquidation of its assets. The ruling will effectively prevent the 85-year-old Islamist movement from formally participating in parliamentary elections expected later this year.
The court's ruling in the case is final and not open to appeal. The verdict came after the committee of political parties' affairs cited security reports stating that the FJP had been involved in violence and terror activities since Morsi's ouster.
The court, in its ruling, ordered "the dissolution of the FJP because it broke the law regarding political parties".
"The party and the Muslim Brotherhood are the same thing" and "its members have committed deeds of violence and acts or terror against the nation," the prosecution was quoted as saying by the state-run MENA news agency.
The ruling comes after the Brotherhood was declared a terrorist group in December last year. It was accused of orchestrating a wave of violence to destabilise the country after the military overthrew Morsi in July 2013.
The Brotherhood has denied any connection to the jihadist militants based in the Sinai peninsula who have killed hundreds of security personnel.
Since the ouster of Morsi, his group and loyalists have faced a state crackdown.
Thousands are currently in prison and hundreds have been killed in clashes with security. State authorities accuse the group of waging militant attacks across the country.
More than 1,000 people have been killed and 16,000 detained in a crackdown by the authorities on Morsi's supporters.
In the parliamentary elections of 2011-12, the first after the revolution against Hosni Mubarak, the FJP won the largest number of seats, at 47 per cent.
President Abdul Fattah al-Sisi, the former military chief who was elected head of state in May, has vowed to wipe out the group. The poll was boycotted by the Brotherhood and many liberal activists.
The Islamist movement was first banned by Egypt's military rulers in 1954, but registered itself as an NGO in March 2013 in response to a court case.
Morsi is currently in prison over charges of killing peaceful protesters, espionage, escaping from prison during the January 25 Revolution in 2011, and insulting the judiciary.