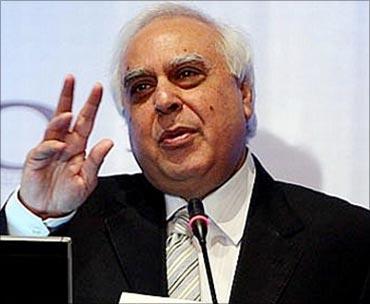 Law Minister Kapil Sibal on Wednesday said the Election Commission should take "hard decisions" if it finds that opinion polls are used to further the cause of parties as a sting operation showed that poll data is manipulated by agencies conducting such exercise.
"If this sting operation represents the truth, those opinion poll results amount to paid news, which subverts democracy and all that we stand for.
"I request the Election Commission to take a call on the revelations, on the nature and impact of manipulated opinion polls, especially in light of the impending elections," Sibal wrote on his website.
He said revelations need to be examined to see whether these opinion polls are intended to "further the cause of a party, and adulterate the cause of democracy."
"If so, the Election Commission will have to take some hard decisions," he said. On February 12, government had told the Lok Sabha that it will take a final call on banning opinion polls only after consulting "stakeholders" after the Law Commission submits its comprehensive report on electoral reforms.
"The issue of electoral reforms in its entirety, which, inter alia, includes ban on opinion polls and advertisements in print media on the day of the polls, has been referred to the Law Commission for its recommendation.
"...on receipt of the report of the Law Commission on electoral reforms, the matter will be further examined in consultation with the stakeholders," Sibal had stated.
Quoting the Election Commission, he said most political parties have favoured a ban on opinion polls. Law Commission Chairman Justice (retd) A P Shah had recently said that the panel will be able to submit its report on electoral reforms to the law ministry in April, when possibly the general elections will be underway.
A ban on opinion polls could require amending the Representation of the People Act.
Prominent parties which sought a ban or restriction on opinion polls ahead of the Lok Sabha elections include the Congress, the Communist Party of India-Marxist, the Bahujan Samaj Party, the Nationalist Congress Party, the Samajwadi Party, the All India Anna Dravida Munetra Kazhagam, the Dravida Munetra Kazhagam, the Janata Dal-United, the Shiromani Akali Dal and the Shiv Sena.
The BJP, however, says there should be no ban as this would fall in the realm of a restriction on the fundamental right of freedom of speech and expression.