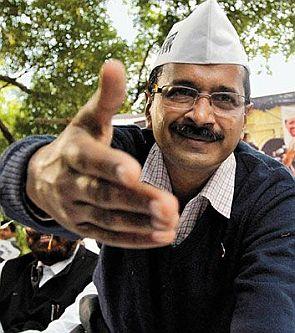 The Election Commission on Friday rejected Arvind Kejriwal's contention on distribution of pamphlets appealing to Muslims to vote for Aam Aadmi Party during Delhi polls, holding that it amounted to model code violation and cautioned him to be careful in future poll campaigns.
"Having regard to the totality of facts and circumstances of the case and submissions and contentions made by you in your reply under reference, the Commission hereby conveys its concern, and cautions you to be more careful in the election campaigns of your party in future," the EC order to the Delhi Chief Minister said.
The Commission held that he had made an appeal in the pamphlet to a particular religious community for securing votes in favour of AAP, which it found to be a violation of sub para (3) of Para I of Model Code of Conduct which bars bars anyone from making an appeal for votes on religious lines.
The poll body said it was not satisfied with the explanation furnished by Kejriwal who contended that the language used in the pamphlet should be read in totality and claimed that he was trying to promote communal harmony.

"The Commission has prima facie observed that by distributing the pamphlet (seeking Muslim votes), you have violated the provisions of the Model Code of Conduct," the EC notice served to him on November 20 had said.
The notice followed a complaint by Harish Khurana, son of former Delhi Chief Minister Madan Lal Khurana, who objected to pamphlets being distributed by Kejriwal containing appeals to Muslim voters for their backing.

In its pamphlet, whose objectionable parts EC has reproduced in its order, AAP stated that, "Delhi's Muslims should support Aam Aadmi Party in the forthcoming polls.
"We (AAP) are not seeking votes for power or money but for rooting out corruption from the system and building a corruption-free India where people belonging to all religions can live in peace," the pamphlet stated.

The pamphlet dubbed BJP as a "communal party". "Till now the Muslims did not have any alternative, but now they have an honest alternative in the form of AAP," it said.
"We appeal to the Muslim voters of Delhi to back our endeavours for clean politics and not fall into the trap in which they have been falling for the past 65 years," it said.
The Commission had last month accorded AAP the status of a recognised state party in Delhi after its impressive showing. AAP had won 28 of the 70 seats in the Delhi Assembly. AAP is now contemplating contesting over 400 seats in the 2014 Lok Sabha polls.