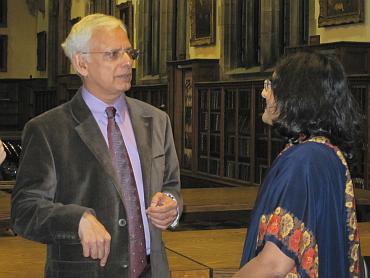 The prayer room can hold only 20 people, and yet to some 300 Hindu undergraduates, dozens of graduate students and Buddhist students at Duke University--not to forget many professors--its inauguration is something of a milestone. Hindu students--at least 25 of them are active in the Hindu Students Association--hope the prestigious university in Durham, North Carolina appoints at least a part-time Hindu chaplain.
Though six United States universities including Columbia, Princeton and American University have Hindu chaplains, the progress in appointing them has been slow, especially when one remembers that the Massachusetts Institute of Technology had a Hindu chaplain, a monk from the Ramakrishna Mission, in the early 1950s.

Late last year, the University of Colorado at Boulder announced it would facilitate the construction of a prayer and meditation room. It also said it would provide yoga mats and prayer rugs to students. The university, known for its Buddhist studies, also offers a course on Hinduism.

The increasing number of America-born students of Indian origin drive the process of having religious activities at the universities and prompting the schools to appoint at least a part-time chaplain.
The Duke prayer room--shared by Buddhists and Hindus--should inspire other universities to offer similar facilities to students who aren't Christian or Jewish, many Duke students said. Most of the students who initiated the process are second generation, said engineering Kishor Trivedi, faculty adviser of the Hindu Students Association and Hudson professor of electrical and computer engineering. He had started the association, which led the prayer-room project, with the help of his daughters and other Hindu students at Duke over a decade ago. Students would meet in the lounge or a vacant space in the basement and discuss the Gita, and say a prayers in between the classes.
Hindu Students Association members at Duke also teach Bhutanese refugees English and inform them of their immigration rights.
The prayer-room inauguration event on January 22 drew over 60 people. Anju Bhargava, founder, Hindu American Seva Charities, delivered the keynote speech. Students said they are inspired by her efforts to get temples and ashrams involved in service to the larger community. Bhargava is a member of the White House Office of Faith-Based and Neighborhood Partnerships.
Bhargava, who exhorted the students to take up more seva (charity) projects, said: 'The prayer room is a place to be in the right company, a place of character building, a place to strengthen oneself… to serve the community. You need a worship space first before you can come together as a community and serve others.'
She added: 'Today we are witnessing a public recognition not only of the growth of religious diversity on American campus, but also its permanent presence on campus. Dharmic traditions are here to stay.'
Several students were interviewed by the Duke Chronicle and area newspapers. Some of them sad they used to perform puja in their cramped dorm rooms and invite friends to join them.
"All of us have grown up going to temple regularly," said Yamini Mishra, an economics undergraduate and Hindu Students Association president, "and would like to continue with these traditions in college as well. Although there are temples in the area, they are inaccessible without a car. We do try to do temple trips as often as we can, subject to budget and other resource constraints. The major faiths on campus have their own places of worship and we felt that it was important for us to have some sacred space on campus where we too can practice our faith regularly."
Hindus and Buddhists have two rooms in the basement of a campus building--one is to be used as an office space and the other as a prayer space, with Hindu deities on one wall and Buddhist deities on the other.
'It is exciting to see these groups representing two different world traditions working together to maximize the benefits of this space,' said Christy Lohr Sapp, associate dean, religious life, Duke. 'The Hindu and Buddhist groups at Duke provide a great model of mutual support.'
"We plan to expand by finding more ways for our community to engage in Hinduism spiritually," Mishra said, "through weekly prayer events and temple trips and intellectually, through speakers, workshops and hopefully a spiritual leader in the future who would ideally help us connect with our faith on a deeper level. We were also awarded the Kenan-Biddle grant for our service project--Duke-UNC Bhutanese Empowerment Project--through which we hope to connect with the greater Hindu community off-campus. Lastly, we hope to further raise awareness of Hinduism on campus."
The enthusiasm of the students, Trivedi said, "especially the second generation, is admirable." He also initiated the idea of holding a Hindu baccalaureate service for Hindu students during commencement weekend.
"I had noticed how Christian and Jewish students have their own services," he said. "At these services there is a religious component but the graduates also get to hear about keeping the faith alive in the larger community."
At the Hindus service, passages from the Bhagvad Gita are read.
He told a local newspaper about the need to have a Hindu chaplain. "If we manage it," he mused, "we will be in front of the crowd."

Image: Professor Kishor Trivedi