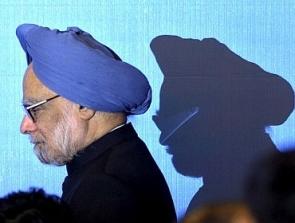 Prime Minister Manmohan Singh on Monday asked political parties to refrain from taking advantage of communal strife and said states should crack down on elements fanning such violence irrespective of their political affiliations or influence.
Underlining that the onus for preventing communal violence lies with the states, he said effective steps should be taken by the administration to ensure that small issues don't snowball into a big controversy.
"The state government should lose no time to control communal violence sternly. The local administration should prevent a small issue from snowballing into a huge controversy and arrest those responsible for spreading it," Dr Singh said while inaugurating the 16th National Integration Council meeting in Delhi.
"The state should use all means at its disposal to punish those guilty for fanning communal violence and ensure a speedy crackdown on such elements irrespective of their political affiliations or influence," the prime minister said.
The PM said the meeting assumes significance as it was being held in the aftermath of communal clashes in Muzzafarnagar which claimed 48 lives and damaged property worth lakhs of crores of rupees.
He said the country had witnessed communal clashes recently in Kishtwar area of Jammu and Kashmir, Nawada area of Bihar, Hyderabad and most importantly Uttar Pradesh, which has seen an increase in these incidents in the past few months.
"At times, the anti-national forces succeed in creating a communal divide between various sections of people and such forces are a big challenge for the democracy of this country," the prime minister said and called for effective handling of such forces with an iron hand.
He said the state governments should make it clear to its officials that "carelessness will not be tolerated" whenever communal tension takes places in their area of jurisdiction.
"They (officials) are answerable in case of any communal tension or violence," he said.
The prime minister termed as "unfortunate" the debate about which party would be benefited during elections in case of communal violence.
"Nobody gets benefits from a communal discord. Such things put a question mark on the very existence of a civilised nation like ours," he said.
"I appeal to parties and media that they should refrain from giving any political colour or taking political mileage from such incidents," Dr Singh said.
With the global world shrinking because of cyber space, social media has been used by some anti-social and anti-national forces to circulate fake videos for creating hatred among communities, he said.
The PM also said that there was a fine line dividing free use of expression on social media.
"While it is necessary to continue the use of social media for strengthening brotherhood, it is equally important to ensure that anti-national elements don't misuse the medium," he said.
The prime minister said atrocities committed on brothers and sisters belonging to scheduled castes, scheduled tribes and other backward classes are no less a cause of concern.
"It is unfortunate that even after 60 years of independence, crimes against these sections are troubling us and such incidents are rising in different parts of the country," Dr Singh said.
He said during the last three years, over 10,000 crimes against scheduled caste and scheduled tribes have been registered each year.
"It is important that not only strict action is needed against such crimes but also social and economical condition of these classes is bettered and they are brought to the mainstream," he said.
The prime minister said the country's economic development can be termed complete and satisfactory only if it benefits the common man and weaker sections.
"A major hindrance in the development of the country is lack of equal opportunities for poor and weak sections of the society. We will not let any section feel that they are not part of the mainstream society," he said.
Dr Singh said the government has taken a number of steps which will take the benefits of economic development to weaker sections of the society.
"Recently, Parliament has passed the Manual Scavenging Rehabilitation Bill which will help eradicate the inhuman practice. Economic and social inequalities are still a major challenge. I understand we need to pay due attention to reduce inequality and deprivation in society," he said.