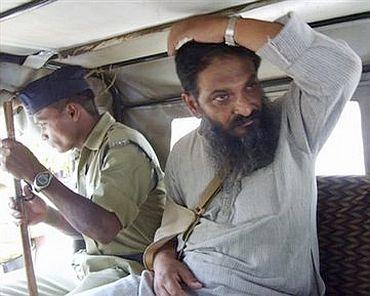 A Raipur sessions court on Friday held Dr Binayak Sen, Naxal ideologue Narayan Sanyal and Kolkata businessman Piyush Guha guilty of treason and waging war against the state and sentenced to life imprisonment.
They were found guilty under the stringent Chhattisgarh Special Public Security Act. Dr Sen was arrested in Chhattisgarh in 2007 and was granted bail two years later. He was honoured with Jonathan Mann award in 2008, while he was still in prison.
Dr Sen's wife Elina has expressed shock over the court's verdict.
Activists worldwide, including Nobel laureates have been pressuring the government for his release. Dr Sen has maintained that he is innocent and that he has been targeted for highlighting human rights abuse.

Sen is a 58-year-old paediatrician and public health physician with a 25-year record of providing health care to the Adivasi people of Chhattisgarh.
A graduate of Christian Medical College, Vellore, Sen was one of the top students of his batch. He completed his post graduation in paediatrics in the early 1970s.
For most of the years since then, he has devoted his life to health care in poor communities. In 2004, he was conferred the college's prestigious Paul Harrison award 'in recognition of his outstanding contribution to society,' as stated on the citation presented with the award.
His contribution was not seen so much in his capacity as a physician, but (as the citation notes), for having "... redefined the possible role of the doctor in a broken and unjust society, holding the cause much more precious than personal safety".
Though his work was in the voluntary sector, but he cooperated closely with the government, especially in conceptualizing and designing the Mitanin programme in Chhattisgarh that went on to provide the model for the ASHA of the National Rural Health Mission.
He was a member of the State Advisory Committee on Health Sector Reforms during the Ajit Jogi government in Chhattisgarh. Sen was also closely involved with civil liberties and human rights work.
He was first drawn to this area through his investigations into hunger deaths and the causes of malnutrition in Chhattisgarh, the "Rice Bowl of India." He was general secretary of the state unit of the People's Union for Civil Liberties and its national vice president.
Binayak was among the first to draw public attention to widespread human rights violations in the wake of the Salwa Judum. An all-India team investigated and published a report on Salwa Judum in November 2005.
Although he was often critical of state policy, and particularly the execution of such policy, his engagement with the government was never abandoned.
Image: File photograph of Dr Binayak Sen