Whatever the outcome of the assembly election in Rajasthan, Ashok Gehlot is firmly ensconced in the Congress inner circle.
Aditi Phadnis reports.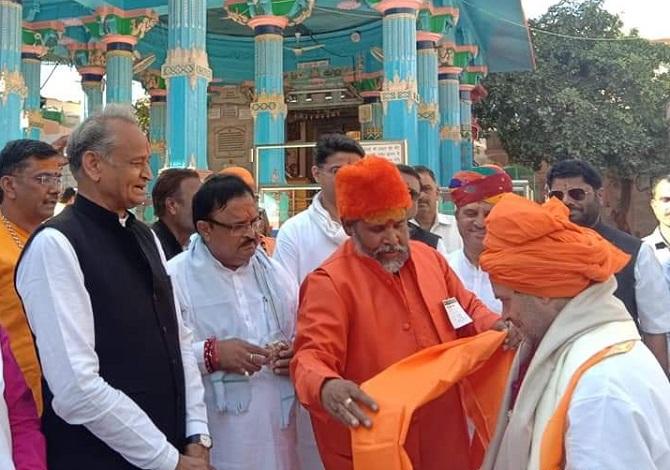 Given the centrality of Ashok Gehlot's role, especially in the recent assembly election in Gujarat, everyone thought he would be retained in central politics, leaving Rajasthan to a younger set of hands.
But Congress chief Rahul Gandhi obviously doesn't want to take any chances in a state that seems ripe for the picking and is deploying every resource regardless of age.
Gehlot -- former Rajasthan chief minister -- is a pretty formidable adversary though he comes across as an unsophisticated, polite and soft-spoken man who used to, till recently, have only one enemy in the state: Former Union minister C P Joshi.
At a meeting where Gehlot was present, Joshi remarked, soon after the 2008 assembly election: 'I was a follower of Ashok Gehlot. Now I am his collaborator. For each person he has to decide at some point... The earlier relationship between us was of leader-follower and now it is of leader-collaborator.' Joshi lost the 2008 assembly election by one vote otherwise, he might have been chief minister instead of Gehlot.
But despite their differences (and they have persisted), they made a formidable team and scripted victory not just in the assembly elections (96 out of 200, four short of majority) but also in the Lok Sabha (19 out of 25), both in 2008.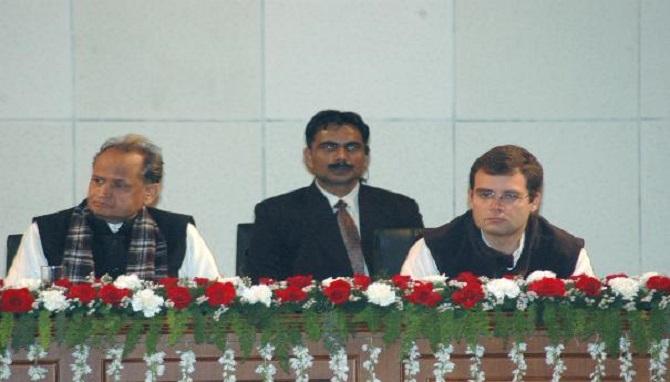 Many say only Gehlot, with his infinite capacity to bend before arrogant and domineering MLAs, could have cobbled a government together and actually run it after the 2008 result.
Gehlot managed to consolidate the Congress party's hold in the assembly: Six MLAs from the Bahujan Samaj Party merged the unit with the Congress. He secured the support of Independents leading to numerical security. But it was a perilous existence.
Then came the historic Bharatiya Janata Party wave and in 2013, the Congress went down to 21 out of 200 seats -- an all-time low in the party's history.
'We did something for every section of society and made sure no one was left out... If we do not win despite giving good governance, we do not know what needs to be done. It is now a matter of introspection,' said Gehlot, as he submitted his resignation that evening in 2013.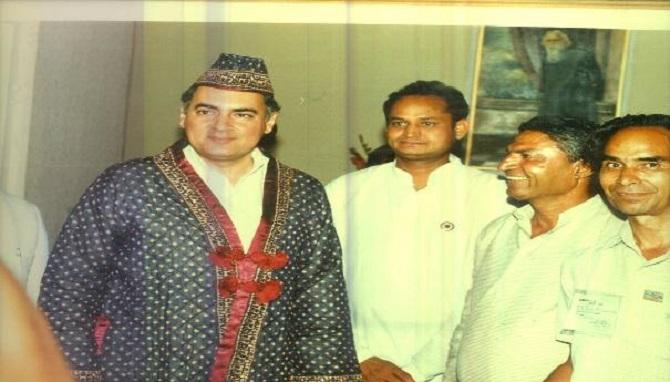 For Gehlot, this was not just rhetoric. A heavily subsidised scheme to deliver medicines became wildly popular initially. He subsidised state transport for women. Everyone below the poverty line, the aged, widows, divorced women and disabled persons between the ages of 53 and 58 was provided a pension ranging from Rs 500 to Rs 1,000 a month.
Eligible workers between 18 and 60 years could contribute an amount as low as Rs 100 at a time. The government paid interest of 8 per cent on the total contributions in the retirement account. Gehlot envisaged investment of the funds with a regulated fund manager or the pension fund regulated by the Pension Fund Regulatory and Development Authority eventually.
But no one appreciates the value of freebies.
The free medicine scheme saw the outbreak of huge scams as genuine generic drugs were swapped for fake medicines and was eventually withdrawn by the BJP government that came to power in 2014.
Instead, Vasundhara Raje launched the Bhamashah Swasthya Bima Yojana, a precursor of Narendra Damodardas Modi's Ayushman Bharat Yojana.
Projects can work. Or they can fail. But no one in Rajasthan really doubted the sincerity of Gehlot's intentions even when they threw him out of power.
In a rare public confession he once described his beginnings in politics: His father was a municipal chairman and gave him money to sell fertiliser in Pipar, a small town near Jodhpur. Instead, the young Gehlot sold his stock and joined politics.
His mentor was Parasram Maderna, a Jat leader, who initially thought Gehlot was too blunt to succeed, but gave him a nomination nevertheless. The first election he fought was in the aftermath of the Emergency in the middle of the Janata Party wave.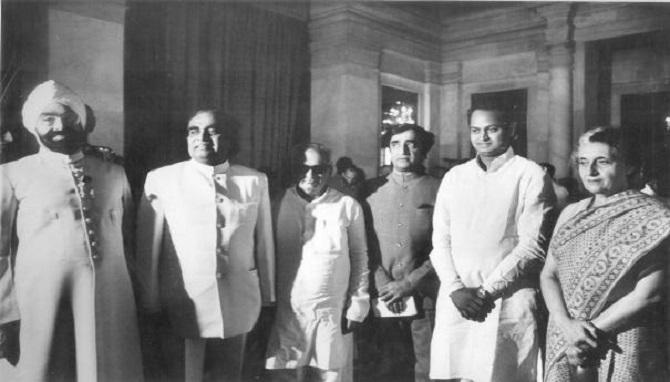 Gehlot listens. He is not an especially gifted orator. But he belongs to the ground and knows where the shoe pinches. Many in the state unit have been drifting away from him gradually to what were seen as greener pastures -- Sachin Pilot.
In the last by-election for the Ajmer Lok Sabha constituency, the Congress candidate, Raghu Sharma, actually belonged to the Gehlot camp until he shifted his loyalties to Pilot.
But Gehlot knows this is not the time to cavil.
Whatever the outcome of the forthcoming assembly election, Ashok Gehlot is in the Congress inner circle, there to stay.