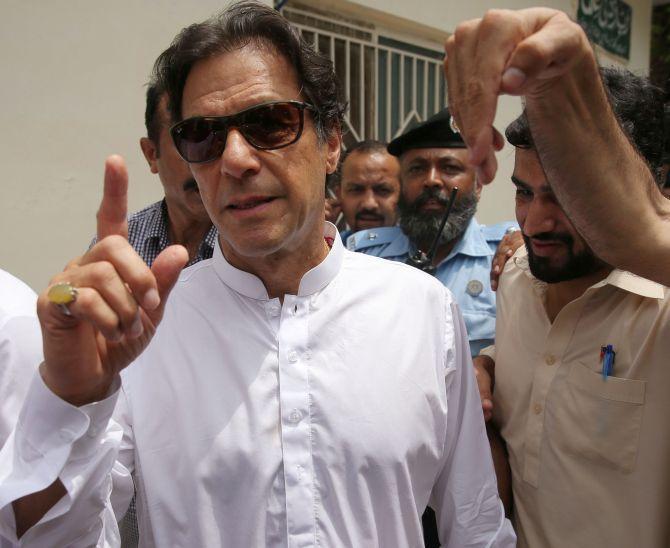 Prime Minister Imran Khan has claimed that the approach of the ruling Bharatiya Janata Party was 'anti-Muslim and anti-Pakistan' and expressed the hope that the stalled bilateral talks could resume after the general elections in India next year.
Prime Minister Khan said his government was keen to bring the perpetrators of the 2008 Mumbai attack to book, asserting that it was in the interest of Pakistan.
"India has elections coming up. The ruling party [of India] has an anti-Muslim, anti-Pakistan approach. They rebuffed all my overtures.... Let's hope that after the election is over, we can again resume talks with India," Khan said in an interview with The Washington Post on Thursday.
India has firmly told Pakistan that talks and terrorism cannot go together.
External Affairs Minister Sushma Swaraj has categorically ruled out the possibility of resumption of bilateral talks with Pakistan unless it stops cross-border terror activities against India.
The general elections are due to be held in India in April or May 2019.
Speaking about the Mumbai terror attack, Khan said Pakistan wants 'something done about the bombers of Mumbai'.
"I have asked our government to find out the status of the case. Resolving that the case is in our interest because it was an act of terrorism," he said.
On November 26, 2008, 10 Pakistan-based Lashkar-e-Taiba (LeT) terrorists arrived by sea route and opened fire indiscriminately, killing 166 people.
Nine of the attackers were killed by police while lone survivor Ajmal Kasab was captured and hanged after handed down death sentence by an Indian court.
Perpetrators of the 26/11 attack, including its mastermind and banned Jamat-ud Dawa (JuD) chief Hafiz Saeed, continue to roam freely in Pakistan, indicating that Islamabad is not serious in bringing them to justice.
The JuD is believed to be the front group for the LeT. The US has offered a $10 million bounty for Saeed.
After taking charge as prime minister in August this year, Khan said he was ready for peace talks with Prime Minister Narendra Modi.
Pakistan sent a proposal in September to hold foreign ministers' level talks in New York on the sidelines of the United Nations General Assembly.
India, however, accepted and then rejected the proposal, blaming Pakistan for killing a security personnel in Jammu and Kashmir and accusing it of glorifying terrorism.
Both India and Pakistan gave the green signal to the much-awaited Kartarpur Corridor last month. The 4-km-long corridor will connect Dera Baba Nanak in India's Gurdaspur district with Gurdwara Kartarpur Sahib Narowal in Pakistan.
The corridor will provide visa-free access to the Indian Sikh pilgrims to the gurdwara which is located in Shakargarh in Narowal district of Pakistan's Punjab province.
"I have opened a visa-free peace corridor with India called Kartarpur [so that Indian Sikhs can visit a holy shrine in Pakistan]. Let's hope that after the election is over, we can again resume talks with India," Khan said in the interview.
It is said that Guru Nanak Dev, the founder of Sikhism, had spent more than 18 years of his life there. The Kartarpur Sahib Gurdwara is located on the banks of the Ravi River, about three-four kilometres from the border in Pakistan.
Khan also said that his country would never share a relationship with the United States if the latter continues to treat the Islamic country as its 'hired gun'.
He said that Islamabad would never accept money to fight someone else's war as it not only costs human lives but also puts the dignity of a country at stake.
"I would never want to have a relationship where Pakistan is treated like a hired gun, given money to fight someone else's war. We should never put ourselves in this position again. It not only cost us human lives, the devastation of our tribal areas, but it also cost us our dignity. We would like a proper relationship with the US," Khan said.
Khan's remarks came in the wake of constant allegations from the US officials that Pakistan has been harbouring terrorists in its soil.
Clarifying that Pakistan had no role in the September 2001 attack on New York's World Trade Centre, Khan said, "I have never understood these accusations. Pakistan had nothing to do with 9/11 (terror attack).
"Al-Qaeda was in Afghanistan. No Pakistani was involved. And yet Pakistan was asked to participate in the US war. There were a lot of people in Pakistan who opposed it, including me."
He further said that by becoming the front-line state for the US in the war on terror, Pakistan went through 'hell'.
"Not only there was a loss to more than 80,000 lives but also the war cost over $150 billion from the country's fund. It further dwindled the Pakistani economy so much so that neither investors were ready to invest nor any country chose to play sports with Pakistan," he added.
Comparing Pakistan's relationship with its neighbour China, Khan said, "For instance, our relationship with China is not one-dimensional. It's a trade relationship between two countries. We want a similar relationship with the US."
Replying to the presence of Taliban in Pakistan, Khan said that there are no sanctuaries in Pakistan for terror outfits.
Earlier this week, US President Trump in a letter to the Pakistan Prime Minister asked for his assistance in bringing the Taliban to the negotiating table.
To this, the Pakistan PM reiterated that 'peace in Afghanistan is in Pakistan's interest' and promised to do 'everything' possible.
Recently, US President Donald Trump and the Pakistan PM engaged into a war of words on Twitter after the former, in an interview with Fox News said that Pakistan doesn't do 'a damn thing for us', and also alleged that the country helped wanted terrorist Osama Bin Laden to hide in its soil.
Responding to Trump's statement, Khan asked the US to assess its failure in tackling terrorism instead of making Pakistan a scapegoat.
With ANI inputs