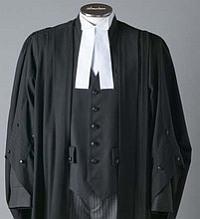 Law officers, including the Attorney General and Solicitor General, have been asked by the government to restrain from taking up private legal cases, arguing that it dilutes their focus from the government litigations.
In a letter to the law officers, the law ministry has said permission for taking up private cases could be sought only in "compelling" situation as their primary role is to defend the government in courts.
The law ministry has reminded them of Rule 8(1) of the Law Officers (Condition of Service) Rules, 1987 which clearly states that they cannot "hold briefs in any court for any party except the Government of India and other institutions enumerated therein."
The ministry was re-asserting its similar office memoranda of 2011 and 2012.
"In spite of above instructions, requests from law officers seeking permission to appear in private cases are being received in routine manner. Sometimes, the number of requests is so large that it tends to take away sizable amount of time of law officers in private matters and in the process, their prime attention in government cases suffers," said the latest memorandum of Law Secretary P K Malhotra.
It asked the law officers to "restrain" from seeking permission to appear in private cases and said such requests in future should only be made for "compelling reasons and in exceptional circumstances.
The law officers include the Attorney General, the Solicitor General and Additional Solicitors General.