In a rare reversal from his earlier stance, Donald Trump, the Republican presidential nominee, on Friday acknowledged that he did not see the secret footage of transfer of USD 400 million (around Rs 26,00 crore) to Iran as ransom for the release of US prisoners.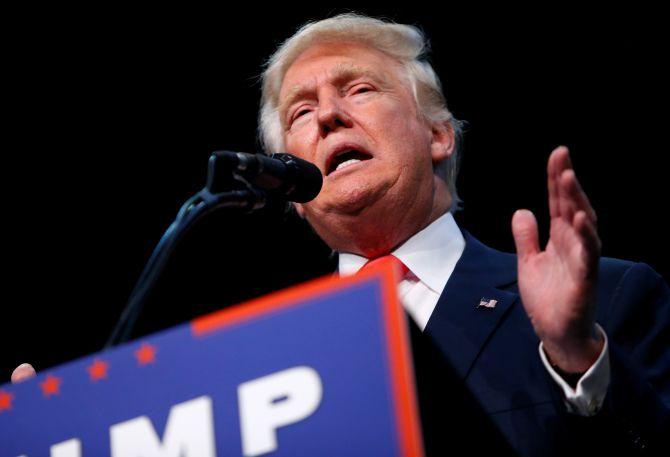 "The plane I saw on television was the hostage plane in Geneva, Switzerland, not the plane carrying USD 400 million in cash going to Iran!" Trump said in a tweet.
For the past several days, the Republican presidential nominee had been claiming that he had seen a top secret video of the unmarked plane that carried USD 400 million worth of cash to Tehran.
The said video, he had said, was handed over by the Iranians.
Independent mainstream media and the US government asserted that there was no such video.
However, Trump kept on repeating his allegations till Thursday.
This morning, he accepted his error and said he did not see the video.
It is a rare reversal of stance being taken by Trump, who is otherwise known for not apologising for his provocative and controversial statements.
Trump, meanwhile continued to blame the US President Barack Obama and his former Secretary of State Hillary Clinton who is now the Democratic presidential nominee for the current instability in the Middle East.
"Clinton and President Obama bear the direct responsibility of destabilising the Middle East, having let ISIS take firm hold in Iraq, Libya and Syria, not to mention their allowing Americans to be slaughtered at Benghazi," Trump said in a statement.
"Clinton's home email server that she lied to the American people about was a profound national security risk, and it should come as no surprise that her campaign would push out another Obama-Clinton pawn (who is not independent) to try to change the subject in a week when Clinton's role in putting Iran on the path to nuclear weapons and this administration being called out for sending USD 400 million in cash to the world's largest state sponsor of terrorism is on every front page in the country," he alleged.
"Clinton has bad judgement and is unfit to serve as President," Trump said.
Meanwhile, in an op-ed in The New York Times, former CIA Director Michael Morell today endorsed Clinton.
"In sharp contrast to Clinton, Trump has no experience on national security. Even more important, the character traits he has exhibited during the primary season suggest he would be a poor, even dangerous, commander in chief," he alleged.
IMAGE: For the past several days, the Republican presidential nominee had been claiming that he had seen a top secret video of the unmarked plane that carried USD 400 million worth of cash to Tehran. Photograph: Eric Thayer/Reuters