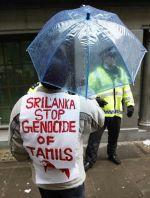 The Dravida Munnetra Kazhagam on Tuesday night withdrew support from the UPA government over the Sri Lankan Tamils issue and ruled out any reconciliation, a move that makes the government vulnerable despite its assertions of having a Parliamentary majority.
A five-member DMK delegation headed by T R Baalu handed over the letter by party supremo M Karunanidhi to President Pranab Mukherjee at 10.30 pm at Rashtrapati Bhavan withdrawing support of its 18 Lok Sabha MPs to the UPA government.
DMK ministers will meet Prime Minister Manmohan Singh on Wednesday to submit their resignations, Baalu told reporters after meeting Mukherjee.
"The letter of withdrawal of support from our party chief Karunanidhi has been handed over to the President just now. Tomorrow, our ministers will hand over their resignations to Prime Minister before 12 noon," he said.
Replying to questions about possibility of a reconciliation with Congress over the issue, Baalu said, "I don't think there is any little chance of reconciliation because the government has miserably let us down as far as Sri Lankan Tamils issue is concerned. For more than two years we approached the government."
Asked about the possibility of DMK extending outside support to the government, Baalu said, "Each and every aspect of your question will be discussed in headquarters. My leader Karunanidhi will decide. Whatever action that has to be taken, has to be taken by the headquarters only."
Asked about any window of reconciliation in the wake of the government already working on a resolution on the issue, Baalu said, "Who said there is a window of resolution. After having submitted the letter of withdrawal of support, where is the window of resolution."
Pressed further, he said, "Let the resolution come. It is a hypothetical question, which I cannot answer. Let us see the draft of the resolution. Each and everything will be decided by our leader."
DMK has been pushing ahead with its demand that India should pitch for amendments to a US-sponsored resolution in UN Human Rights Council so that it calls for an independent international probe into "genocide" of Sri Lankan Tamils in the island nation.
Soon after T R Baalu met President Pranab Mukherjee to hand over DMK Chief Karunanidhi's letter for the withdrawal of his party's support to UPA, Prime Minister Manmohan Singh held consultation with his Cabinet colleagues at his residence.
Sources said the meeting was attended by Parliamentary Affairs Minister Kamal Nath and Congress president Sonia Gandhi's political adviser Ahmed Patel besides some other Cabinet ministers.
During the 45 minute late night meeting, Singh discussed the political situation arising out of DMK's withdrawal of support to UPA as also the issue of Sri Lankan Tamils, sources said.
The DMK has been pressing the government that India should move amendments to the US led resolution in UN Human Rights Council against Sri Lanka on the plight of ethnic Tamils.