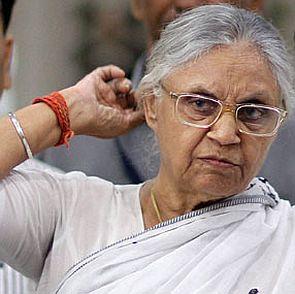 Delhi Chief Minister Sheila Dikshit on Monday mounted a counter offensive against Bharatiya Janata Party prime ministerial candidate Narendra Modi, rapping him for "lowering the norms" of politics by indulging in personal attacks and stoking controversy on a "non-issue".
Dikshit's strong reaction comes a day after the Gujarat chief minister kick-started the campaign in her bastion ahead of the November assembly polls and accused Rahul Gandhi of committing the "sin" of insulting the prime minister on the ordinance protecting convicted lawmakers.
"The attack was not as per political norms of the country. Political attacks should not be personal. There should be some dignity in politics," the chief minister said.
In his rally on Sunday, Modi slammed Rahul and asked people to decide in the next Lok Sabha polls if the nation will be run based on the Constitution or whims of the "prince". He had also criticised Prime Minister Manmohan Singh, saying though he is 'sardar', he is not 'asardar' (effective).
"His attack on Rahul Gandhi showed he had done it without understanding the issue," Dikshit told PTI. While referring to the purported comparison of Dr Singh to a village woman by Pakistan Prime Minister Nawaz Sharif, Dikshit chided Modi and said he tried to stoke a controversy on a "non-existing" issue. "I think he has created a controversy when there was no need to create one. His comments were without basis" said Dikshit.
A Pakistani journalist, who first attributed the "dehati aurat" comment to Sharif, later denied that the Pakistani prime minister had used such words.
On Modi terming her as a 'ribbon cutting chief minister', Dikshit said the prime ministerial candidate of the BJP did not have proper knowledge about traditions of the country. "It is a lack of knowledge on his part. He should know that ribbons are also cut after a project is completed. It is part of the tradition of the country," she said.
She also took a dig at Modi for his remark that Delhi has been reeling under severe power shortage and that even the prime minister and president's have generators at their residences, saying he did not know that the capital gets round-the-clock electricity supply.
"The person who aspires to be become prime minister of the country does not know that Delhi gets 24X7 power supply. We even have stand-by arrangements for VVIPs. We provide power at the cheapest rate," the chief minister said.
The Delhi CM also said Modi did not have any idea about administrative structure in the capital when he commented on December 16 gang rape and other issues. "The BJP leader does not have any idea about administrative set up in the capital. That is why he made such remarks," she said.
Modi had raised the issue of December 16 gang-rape incident as well as corruption in hosting of the Commonwealth Games in the capital in 2010 and ridiculed Dikshit saying, "Sometimes I think if there is any happiest chief minister in our country, then it is the Delhi chief minister. Morning to evening, she has no work to do except for cutting ribbons," he said.