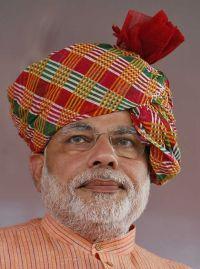 Asserting that dignity of women is a step towards nation building, Gujarat Chief Minister Narendra Modi on Monday said the women have excelled whenever given an opportunity.
Lauding the hard work put in by the feminine gender, Modi said the global acclaim that Amul enjoys is in part due to the ground-level work that women do to make the brand a success.
"Jasuben ke Pizzas" capture a big market in Gujarat, Modi said. "An educated individual in Gujarat will also prefer Jasuben ke Pizza" over Pizza Hut. Lijjat Papad is a creation of a group of uneducated women. This is a model of entrepreneurship," he added.
Modi, who was speaking at an event organised by the Federation of Indian Chambers of Commerce in New Delhi, cited his government's policy to give earthquake victims houses in the name of the woman of family.
"In Gujarat's schools, we ask for the mother's name for a child's admission, not the father's," he said, while addressing the FICCI ladies organisation.
Modi also expressed his delight over the suggestions that he has received from FICCI's women cell.
"I am happy that social, gender and national issues are the top issues our sisters at FICCI have addressed," he said.
Expressing his apprehension over the difficulties that women face in the 21st century, Modi said, "Status of women has been unquestionable in our culture. It seems that education and modernity has made us regressive."
The Gujarat chief minister further said that he is grateful to social media technology for allowing a large number of people, women to connect with him.
"This is my first lecture prior to which a large number of women connected to me through Facebook and Twitter. Not only this, they posed several questions to me and gave me various suggestions," he said.
FICCI President Naina Lal Kidwai speaking on the occasion earlier praised Modi, and called Gujarat a gateway to the globe.
"Gujarat is a gateway to the globe from India," she said.
The Gujarat chief minister, who is being touted by many as Bharatiya Janata Party's prime ministerial candidate in 2014, addressed students of DelhiUniversity's prestigious Shri Ram College of Commerce earlier in February.