Mamata Banerjee predicts the BJP-led NDA will not get more than 150 seats in the next Lok Sabha election.
Avishek Rakshit and Ishita Ayan Dutt report.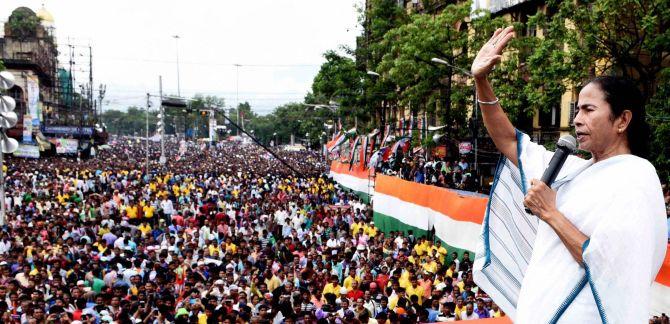 Mamata Banerjee, chief minister of West Bengal, has vowed to overthrow the Bhatratiya Janata Party's rule at the Centre in 2019, predicting the latter would get no more than 150 seats during the next election to the Lok Sabha.
The BJP hatao, desh bachao (remove BJP, save the country) campaign will be launched on August 15 and a mega rally for the same has been planned for January 19, Banerjee said, addressing a rally in Kolkata.
She predicted the All India Anna Dravida Munnetra Kazhagam would lose the next election in Tamil Nadu (it had voted for the BJP in the Lok Sabha during Friday's no-confidence motion), and noted the Shiv Sena, one of the BJP's oldest allies, had abstained from voting.
The BJP's seats in Uttar Pradesh would reduce substantially in the general election and those in Madhya Pradesh be reduced to a fourth of the current number, she added.
It would also get no more than five in Rajasthan and suffer big defeats in Gujarat, Bihar, Odisha, Punjab and Bengal (where she said her party would take all 42 seats.)
"Their tally (of the BJP-led National Democratic Alliance) of 350 seats now will come down to 150 at the maximum."
Banerjee, however, also cautioned the Congress party, with which it is in talks for a possible alliance in the fight for Delhi.
In Bengal, she alleged, the Congress was aligning with the BJP.
Opposition parties in Bengal had got together against the TMC in the run-up to the recent panchayat polls.
"On January 19, from the Brigade Parade grounds, we will launch a campaign to overthrow the BJP. Several political leaders from other states and parties will be present for it. West Bengal will show the way to the Parliament," she said.
Preparations for the rally would start from November.
Taking a dig at a recent incident in Midnapore when a pandal collapsed during Prime Minister Narendra Damodardas Modi's address and injured several, the CM said, "Those who can't even make a pandal properly are running the country."
Banerjee asked her supporters to stay vigilant and monitor movement of 'outsiders', who she said, were entering the state to spread communal violence and anarchy.
Banerjee also used the event to showcase members from other parties who had joined the TMC. Four Congress MLAs and former BJP MP Chandan Mitra have joined the party.
At Saturday's rally, Banerjee also dared the BJP to try another round of investigations by central agencies against her people.
The Central Bureau of Investigation and Enforcement Directorate have been probing ponzi scams where a number of TMC leaders' names are linked.