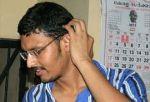 Was it a love affair with a fellow woman bank officer that blossomed during training ultimately lead to the arrest of German woman rape case convict Bitti Mohanty seven years after he jumped parole?
Speculation in this regard has been doing the rounds even as the police did not want to confirm or deny reports that suggested this possibility, saying this was not the focus of their investigation now underway.
Bitti, who secured job in a public sector bank, reportedly had an affair with a woman who was part of the same batch of probationary officers recruited by the public sector bank.
Initially, the affair appeared to have gone on smoothly, but when it reached a stage where they could think of becoming life partners, Bitti apparently wanted to wriggle out fearing that it would have adverse consequences for him, according to reports.
However, the girl, working in a different branch, is reported to have remained firm and informed her kin about the desire to marry him. Though her parents sought to dissuade her, she stuck to her stand.
It was during the time when the parents were making enquiries about him, that his picture was flashed on a TV channel in the wake of the Delhi gang-rape incident as one of the culprits who had been absconding after committing crimes against women.
The close resemblance of the TV image with Bitti, who was living here as 'Raghav Rajan' from Andhra Pradesh, made them suspicious about his real identity. The woman also started having doubts about Bitti.
It was around this time the bank's branch received an anonymous letter saying that the man who was working there under the name Raghav Rajan was actually Bitti, who had jumped parole in 2006 while he was serving a seven-year jail term in the rape case in Alwar in Rajasthan.
The branch forwarded the letter to its headquarters and the officials there, in turn, handed it over to the police.
When contacted, reliable sources in the bank headquarters said it was true that there was a letter casting doubts about the true identity of `Raghav Rajan,' but they could not say who wrote the letter.
At the beginning of the investigation itself, police had said there was anonymous letter which gave some clues.
However, it was not the focus of the investigation now, it said.