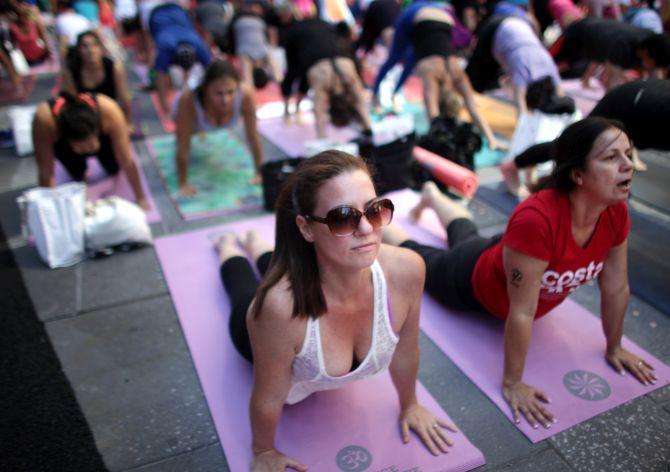 Indian Institutes of Technology-Roorkee has denied that it forced its students to join the government's grand-scale yoga programme on Sunday after a circular mailed by a student appeared to suggest that.
"No such decision was taken by the institute's administration nor was there any circular from the ministry of human resource in this regard. However, my office did ask about 2 to 2.5 thousand students staying at this time in the summer hostels of the institute to participate in the camp to make the unique initiative a success," Dean (students welfare) IIT, Roorkee Dinesh Kumar Nauriyal said.
Though all students were asked to participate in the camp keeping in mind their physical and mental well being as well as the success of the programme, it was not binding on them as many of them who had problems in joining the camp for different reasons were exempted, he said.
Citing an example, he said many Muslim students were exempted from attending the camp when they said it would be too strenuous for them as yogic exercises could cause heavy sweating and thirst.
Similarly, students who have gone home for the summer vacation stand automatically exempted from the camp which will go on till June 24, he added.
When asked whether he was aware of any opposition from students to the yoga camp, he said he had not received any complaint in this regard.
However, if any student had any problem in attending the camp he should have approached the office of the Dean of Students Welfare and his complaint would have been looked into, he said.
Students who participated in the camp were very enthusiastic about it with some of them even coming to me and talking about the good effects it had on them, he said.
"We did ask all students present in the hostels to join the camp because we wanted them to benefit from the good effects of yoga and we had no other intention," Nauriyal said.
Though it was made to appear mandatory by the students welfare department to ensure maximum participation of students, it was not mandatory in the strictest sense of the term, he said.
Had it been so, Muslim students and those holidaying at home would not have been exempted from attending it, he said.
The only mandatory programme on yoga is the one held on the campus for an hour every morning for students found guilty of indulging in violation of discipline like drug abuse, alcohol consumption as a corrective measure to help them mend their ways, he said.
This began last year as it was realised that the financial penalty imposed on such students was a burden on their parents and not a corrective step towards curing them, he said.