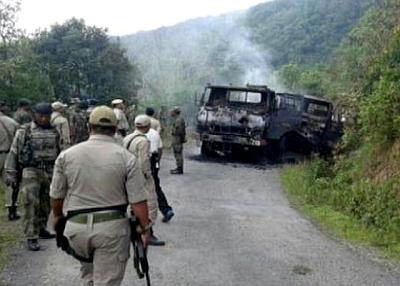 Nationalist Socialist Council of Nagaland-Issac-Munivah, which is in peace talks with the Centre, had expressed its desire to help security forces hunt down its arch rival NSCN-Khaplang rebels, who killed 18 soldiers in Manipur, but the offer was turned down.
There was an offer from NSCN-IM to security forces that it would like to join the operations against NSCN-K militants in Manipur, Nagaland as well as across Indo-Myanmar border immediately after the June 4 incident, sources privy to the development said.
However, government turned down the offer saying it was capable of dealing with the Naga insurgent group.
On Tuesday, Special Forces of the Army had attacked rebel camps deep inside Myanmar and inflicted heavy casualties on them.
Two top leaders of NSCN-IM, Isak Chishi Swu and Thuingaleng Muivah, were once close friends of NSCN-K chief S S Khaplang. The trio had revolted against the Shillong Accord of November 1975 which was signed by Angami Zapu Phizo's Naga National Council.
The three leaders then formed Nationalist Socialist Council of Nagaland. In April 1988, Khaplang announced the formation of NSCN-K after making an unsuccessful attempt on Muivah's life.
Khaplang now heads recently-floated United National Liberation Front of Western South-East Asia, an umbrella group of five more rebel outfits from northeastern region, including United Liberation Front of Assam, eople's Liberation Army and National Democratic Front of Bodoland- Songbijit.
NSCN-K, along with a few Manipuri outfits, were responsible for the killing of 18 army men in Chandel district of Manipur on June 4.
Image: The site of the ambush in Manipur's Chandel district. Photograph: PTI