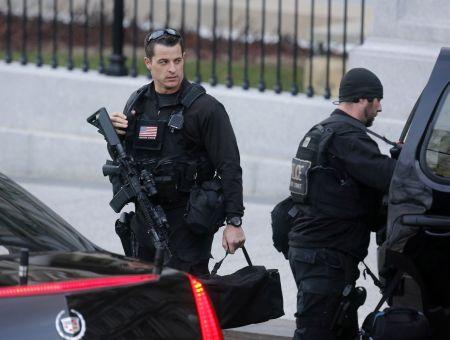 Two senior United States Secret Service agents are being investigated over allegations that they crashed a government car into White House security barricades under the influence of alcohol, a media report said.
The agents, including a top member of the president's protective detail, drove a government car into White House security barricades after drinking at a late-night party on March 4, according to The Washington Post.
The Secret Service agents on duty wanted to arrest the two of their senior officials, but were let go at the direction of their supervisor.
Secret Service's new Director Joseph P Clancy on Wednesday directed an inquiry led by the department of homeland security inspector general into the incident.
The New York Times identified the two men as Mark Connolly, the second-in-command on Obama's personal protective detail, and George Ogilvie, a top supervisor in the agency's Washington field office. "The Secret Service is aware of the allegations of misconduct involving two of our employees at the White House complex," said Brian Leary, a spokesman for the Secret Service. "If misconduct is identified, appropriate action will be taken based on established rules and regulations."
Jason Chaffetz, chairman of house oversight and government reform committee, in a statement said the episode was the latest example that the Secret Service needed to be run by an outsider.
"I believe we need a leader from the outside to transform the agency back to its elite status. We have a lot of good men and women there, and this taints the agency and the White House and that's not right," he said. "It's never good to be drunk at work, especially if you are in the Secret Service," Chaffetz said, adding that four Secret Service employees had contacted his office in recent days to report the episode.
In 2012, a dozen Secret Service agents were caught with prostitutes after they had been drinking in the days leading to a presidential summit meeting in Cartagena, Colombia.
Nearly all the agents were dismissed, and the scandal led to a Homeland Security investigation into the agency's culture, the daily reported.
Last year, two agents were sent home from a presidential trip in Europe after one was found passed out in a hotel hallway from a night of drinking.
And last fall, a man climbed over the White House fence and made it through the North Portico door and well into the mansion before he was tackled by officers. As a result agency's previous director Julia A Pierson resigned under pressure.

Photograph: Representation picture