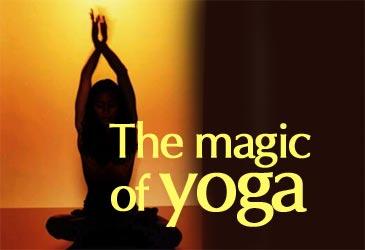 My mama is a yoga guru and had done a yoga course at the famous Sivananda Ashram at Neyyar Dam, Kerala.
I had heard her talk about it, but when she said they taught swimming and arts and creativity -- which I like very much -- I really wanted to go there too. I like yoga also, especially when I see the more difficult asanas, but I am lazy about doing it.
Yet, when I went for a month-long children's camp -- from April 17 to May 16 -- at the Sivananda Ashram, I felt a bit scared and sad. It took me a few days to settle down.
The first day was a holiday. The second day, all of us were given a roll number.
Our first meeting was at the big Shiva Hall, where we later learnt our songs, did our meditation and had our classes. When our number was called, we had to stand before the whole ashram -- must be around 150 people -- and introduce ourselves. We had to give our names, say where we were from and talk about our hobbies and what we liked.
I remember greeting everyone with Om before I began talking. I did that because, when Mama gave a lecture on yoga in my school in Mumbai, she began with an Om too.
Mama later said she was very proud of me because I had said Om, just like the ashramites who say Om Namah Shivayah instead of hello. Since the camp is only for children, parents are only allowed to stay for one day. But my mother was given special permission to stay for two days, which is why she was able to see my introduction.
After introducing myself, I told everyone, "I am here because my mama is a yoga acharya who studied here. But I am also here to have loads of fun and make lots of friends."
At that time, I did not really mean it; I was feeling sad to be away from home, in a strange place where it got dark early and there were lots of insects. Besides the ashram is very strict about getting up early -- you have to get up at 6 am, stand in a queue for the toilets and switch off the lights at 9.30 pm -- eating food (I am fussy!) and keeping your bed neat (Mom does it for me at home!)
A few days after Mom left, the fun did start because I got used to life at the ashram. We had swimming classes every alternate day, which I loved. Then there were asana classes (I can now stand on my head, using the wall as support!), lecture classes (anatomy, Bhagvad Gita, explanations about yoga), games and activities, including silent hour when we had to write letters to our families.
I must admit I wrote very short letters because I enjoyed drawing better, though I used to feel sad that Mom and Dad did not send letters (I learnt later that letters take a long time to reach from Mumbai to Neyyar Dam. I still have not got some letters Mom sent me.)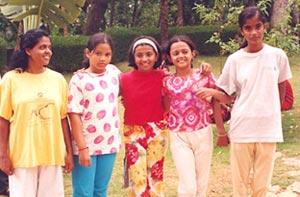 My favourite session was chanting. Once, Swamiji (who is like the principal of the ashram) called my roll number and I had to lead the entire ashram in a bhajan. I chose my favorite -- Krishna Govinda Govinda Gopala, Krishna Murali Manahora Nandlala.
(Jahnavi, second from right, with her friends at the Ashram.)
On another occasion, I had to emcee a talent show along with a boy. These talent shows were held every Saturday. I had to collect the names of the performers and introduce their act before the entire ashram. It was good fun. I remember one of the performers thanking me with the words, "This beautiful emcee…"
During my birthday, I felt a bit bad since I had not received a single card -- not even from my parents (even couriers take so long to deliver because Neyyar Dam is a small, village-like place).
But my friends gave me sweet gifts (like lollipops), while the ashram gave me a book of Betal stories. And the entire ashram sang the Om Trayambakam Yajamahe mantra for me three times in the morning, while I did the evening aarti.
It was fun and very different from what I normally do on birthday (call my friends over, have a party and cake, play games and distribute return gifts)
On the first day of the Bhagvad Gita class, we were all very bored. We had to chant prayers from our Bhagvad Gita chant book again and again till we got it right. Later, we began enjoying it.
Swamiji used to tell us spiritual stories for about 15 minutes daily. We loved that as well.
The best part was learning the yoga asanas. All of us felt lazy about doing the asanas on the first day. It was difficult to move our body in the various yoga postures. Once we got used to it, we felt very active. We used to have different people teaching us everyday. It was a happy time.
During lectures, we learnt more about the asanas and yoga. We learnt about the different types of yoga and the different sections of yoga like yamas and niyamas.
Initially, like all the other things, we thought the lectures were boring. Later, we started enjoying them.
I used to answer in class, especially during anatomy, which I like.
In the Sanskrit class, the teacher used to act like he knew only Sanskrit and did not understand a word of English. I love Sanskrit, which I learn in school, so I used to enjoy the class a lot. We learnt to sing several chapters of the Gita in Sanskrit. We also learnt numbers from one to 100. 
We went on several picnics to Kanyakumari and Trivandrum; we even trekked up a steep hill to meditate early one morning.
We also went to the lake for meditation; it was very beautiful.
We had to stick together in groups for everything. After a few days, we began to like everything (the timing, the chanting, the strictness) we did had not liked in the beginning.
The only thing we never really managed to like was the food -- there was rice, so many vegetables and tiffin during milk time in morning and evening. I used to have only the milk and refuse the tiffin.
Though we changed our mind about everything, we never changed our mind about the food. I'm not used to eating too many vegetables -- I like rice, chappati, potatoes, chicken, dal, sambhar and chutney.
I love the ashram. It is very big and very beautiful, with lots of trees like rubber and mango. The jackfruit tree has huge fruits hanging from the trunk so little animals, birds and big butterflies are always there.
It was raining in Kerala, so there were lots of other living things too -- like big moths, spiders, millipedes and huge insects. I used to be scared of them since, in Mumbai, I live in a flat and we don't get such creatures in the house.
During the first week, I felt very jumpy but, after a few days, I got used to the insects and the dark (since power cuts are so common there). During power cuts, the girls in the dorm would keep their torches on and tell ghost stories, but I always fell asleep.
Actually, being in the dorm was fun since one never felt lonely.
My best friend Soha (who is actually from Mumbai, but lives in Chennai, unlike my parents who are from Chennai but live in Mumbai) used to be in another section of the dorm, but we became very close.
Soha got the Yogini award for all-round performance. And I was number one in all categories except health (I got an upset stomach once) and hygiene (my bed was a mess, usually!).
I was also Miss Mumbai Princess and got several small awards for group activities and participating in a talent show.
Mom had dropped me at the ashram and Dad came to pick me up. My mood on the day I came to the ashram and the day I had to leave was so different. I felt a bit sad leaving my new friends, though I was looking forward to going back home.
The ashram is a beautiful place. There is magic there. It makes us very happy. It must be magic.
Jahnavi, who is 11, would love to make a second trip to the Sivananda Ashram.
Title photograph: Getty Images
Image: Rajesh Karkera