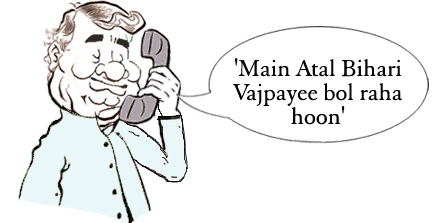 I was rushing to attend Govinda's press conference; the Bollywood star had joined the Congress party and was going to take on BJP stalwart Ram Naik.
I just about managed to climb onto an Andheri-bound local train when my cell phone rang. It was an STD call. When I answered, the first word I heard was a polite "Namaskar."
"Namaskar," I replied, pleasantly surprised.
"Main Atal Bihari Vajpayee bol raha hoon [This is Atal Bihari Vajpayee speaking]," said the voice again. I almost dropped my phone. The voice, however, continued without a pause. "Aap ko tatha aapke parivar ko meri subkamnayein [My best wishes to you and your family]. Paanch saal pehle aapne mujhe seva karne ka mauka diya tha, uske liye dhanyavad [I would like to thank you for the opportunity you gave me five years ago]."
I listened intently.
Even as he talked about national development and his plans for the future, my mind began to churn with questions I had always wanted to ask the prime minister.
Then he said, "Dhanyavad (Thanks)," and, before I could say a word, disconnected. I grinned at myself; I had been fooled by the BJP's latest campaign innovation -- a recorded message from the prime minister.
Vijay Singh, Mumbai
The art of bargaining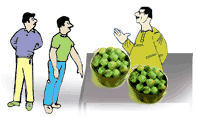 It was the end of a long, hard day at work.
I was on my way home with a friend when I spotted a vendor selling guavas on the other side of the road. Since I am very fond of fruits, I asked my friend to wait and quickly crossed the road.
"How much?" I asked the vendor, though I knew a guava sold for one rupee.
"Three guavas for Rs 2," he said.
"Make it four guavas for Rs 4," I countered.
"Three for Rs 2," repeated the vendor.
"I know, I know," I replied, proud of my bargaining skills. "Can't you make it four for Rs 4?"
"Sir," said the vendor, "I am selling THREE guavas for Rs 2."
His obstinacy made me angry. "What wrong with you?" I raised my voice.
The vendor raised his voice too, "Why don't you underst…"
I did not give him a chance to finish. "Everyone else is selling four guavas for Rs 4, but you want to act extra-smart," I raged and stomped off to join my friend, who asked me why I was looking so angry.
"Arre yaar," I told him, "bahut akhad raha hain [he was acting too smart]. I wanted four guavas for Rs 4 but he was insisting on three guavas for Rs 2…" I suddenly realised my mistake. We both laughed as we made our way home.
Sanjeev Kulkarni, Bangalore
Luxury condoms for sale?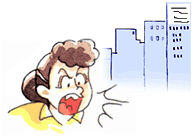 My cousin, his friend, the friend's wife and I were on our way to Manhattan when we saw a building under construction. A huge poster was displayed on the face of the building.
My friend's wife started reading the poster aloud: "Luxury condoms for sale." We were shocked. "Dekho likha hai [It's written there], luxury condoms for sale," she repeated even more loudly.
All of us turned to look at the offending poster. And this is what it actually said: 'Luxury condos for sale." (Condos is a shortened form of condominiums or apartments).
My embarrassed friend struggled to ignore our suppressed giggles as he tried to explain the difference to his aggrieved wife!
Mohammed Taha, Syracuse
What's in a name?

What's the best way to find a suitable name for your newborn baby? As the father of a one-month-old boy, I opted for the Internet.
I wanted a name that was compatible with numerology. But the information available was too much to assimilate.
According to some numerology experts (rather, automated software) on the Net, one should add the number of the birth day, year and month to figure out the birth number. But, according to the famous palmist and numerologist Cheiro, one just needs to add the number of the birth day.
Follow one method and you end up with one number, follow another you end up with another.
This was getting too complicated, so I decided to concentrate on the star sign. If I followed this advice though, I had to drop the names numerology said were good for my little one.
I was at my wit's end.
In the end, I decided to follow Cheiro. My son has been named Gautam.
Adur Pradeep, Mumbai
Images: Uday Kuckian
ALSO IN THIS SERIES
'Hara Haara'
Who is your daddy?
Daler Mehndi never came back
Goldie Govind Hari!
Love bug
An Alsatian roams free...
Car, Car Baby
Nude pictures?
Of red BMWs and silver Jaguars
No booze, God is on the premises
Birds, bees and elephants