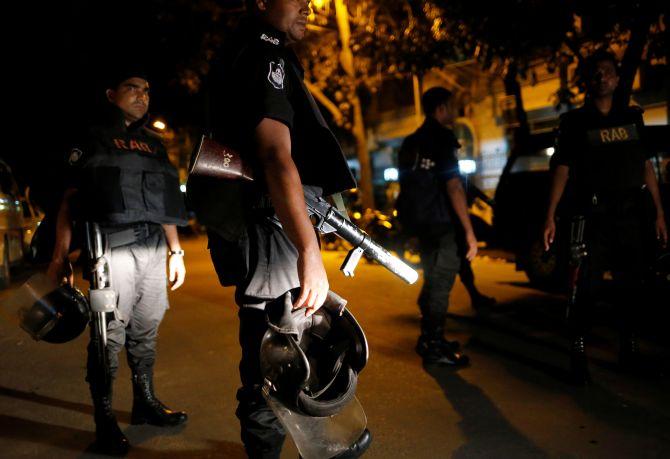 One of the masterminds of Bangladesh's worst terror attackat a popular cafe in Dhaka and another top militant behind the murder of a Hindu priest were killed on Friday in a shootout with police, the latest success in the anti-terrorism drive in the Muslim majority nation.
Islamic State-linked Neo-Jamaat-ul-Mujahideen's most wanted leader Nurul Islam alias Marzan and another extremist were killed by counter-terrorism and transnational crime unit in Mohammadpur Beribadh area of the capital during a pre-dawn raid.
"One is identified as Marjan and another is Saddam Hossain, an accused neo-Jamaatul Mujahideen Bangladesh member," Monirul Islam, chief of counter terrorism and transnational crime unit of Dhaka Metropolitan Police said.
Police said Marzan coordinated the July 1 attack on Gulshan's Holey Artisan Bakery in Dhaka's posh diplomatic area that killed 23 people, including 17 foreigners. An Indian girl was among them.
On September 10, police detained three persons from Azimpur including Marzan's wife Afrin alias Prioti.
Earlier, a Bangladeshi-Canadian Tamim Chowdhury, who was singled out by the police as the neo-JMB chief and the key player in the recent terror activities in Bangladesh, and two others were killed in a police operation in Narayanganj on August 27.
Saddam was wanted for at least 10 murder cases, including Japanese national Kunio Hoshi murder, Jogeshwar Dasadhikari murder and attempt to murder a Bahai community leader in Rangpur, Monirul said.
Jogeshwar was hacked to death during an attack on a temple in Bangladesh's Panchgarh district in February last year.
"Acting on a tip-off, we conducted a raid around 3am...Sensing our presence, the militants opened fire at us. In retaliation, we fired back that left the two injured," Monirul said.
Later, they were declared dead when taken to Dhaka Medical College Hospital.
According to an investigator, former Islami Chhatra Shibir leader Marjan was the youngest military commander of the neo-JMB, a new faction of Jamaatul Mujahideen Bangladesh affiliated with Islamic State, Dhaka Tribune reported.
He also had connection with a number of top leaders of the outfit. Marjan had expertise in operating heavy arms.
Marjan had stayed in the militant den of Gobindaganj in Gaibandha for a long period where he reportedly gave motivational training to seven militants. Of the seven, five took part in the Gulshan terror attack.
On July 1, militants stormed the bakery. The attackers took diners and restaurant staff hostage and had confrontations with police, killing two police officials.
Next morning, a joint commando force stormed the bakery, killing all the attackers and rescuing the captives, ending the terror siege of nearly 11 hours.
Bangladeshi security forces had launched a crackdown against Islamist extremists following the cafe siege, which sullied the country's image as a relatively moderate Muslim nation.