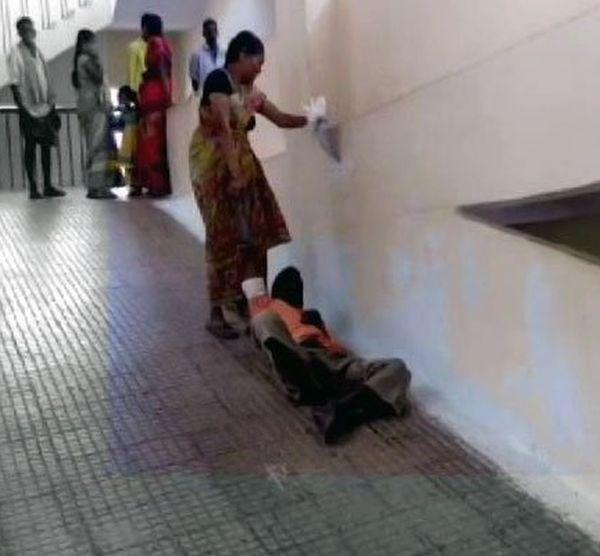 A woman purportedly pulling her ailing husband on a hospital ramp in absence of a stretcher in Anantapuramu district in Vijayawada has gone viral on social media with many accusing the hospital of being negligent.
The alleged incident took place at the Government Regional Hospital in Guntakal, Anantapuramu district, on Wednesday.
Local media reports claimed the hospital staff 'denied' either a wheelchair or a stretcher to move the sick man to the first floor, forcing the hapless woman to drag her husband all the way on the ramp to the emergency ward in Guntakal on Wednesday.
Hospital authorities and staff were aghast as news of their 'inhuman act' spread. The state health administration was also flabbergasted.
The facts, however, came out only after Anantapuramu District Collector Kona Sasidhar conducted an inquiry into the incident.
The inquiry revealed one Srinivasachari was brought to the hospital after he complained of abdominal pain. He was apparently having a wound on his left foot and was drunk when his wife Srivani brought him to the hospital.
As many other old patients were waiting in the outpatient wing, the on-duty doctor asked the couple to sit in a chair in the corridor. Suddenly, the couple started quarrelling and the woman started pulling him away from the crowd, the probe revealed.
As he began to falter, she started dragging him on the ramp and some passersby caught the scene on their mobile phones and someone eventually posted it on Facebook. It was promptly picked up by television channels.
Anantapuramu District Coordinator of Hospital Services N Ramesh Nath also submitted an inquiry report to the Chief Minister's Office after obtaining written explanation from the on-duty doctor Nagesh C A S, head nurse and other staff.
Interestingly, the woman Srivani also gave it in writing that she was only trying to catch hold of her husband who was tripping on the ramp. "Someone came and took those pictures," she said in a statement given to the DCHS.
Image: Local media reported that the woman dragged her husband who had a wound on his left foot.