A week after Prime Minister Narendra Modi announced that the Rs 500 and Rs 1,000 notes are illegal tender, at least 33 people have been reported dead in demonetisation-related incidents.
While a few deaths have been out of shock, as alleged by the families of the deceased, some deaths are claimed to be owing to exhaustion after standing for long hours in serpentine queues.
On Wednesday, the situation was no different with three other deaths being reported, which are being linked to the PM's demonetisation move.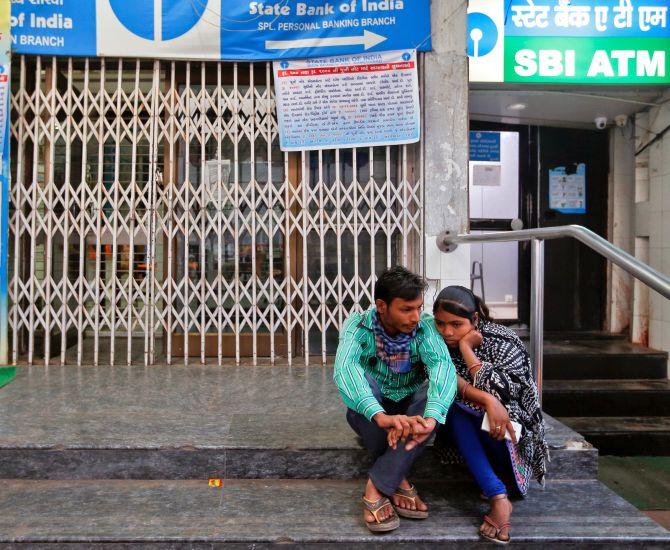 IMAGE: A couple waits for a bank to open to deposit or exchange their old high denomination banknotes in the early hours in Ahmedabad. Photograph: Amit Dave/Reuters
A 48-year-old man died on Wednesday allegedly after he suffered heart attack while standing in line for over eight hours to exchange now-defunct notes for new ones even as banks and ATMs continued to be crowded by hassled Delhiites eight days after the demonetisation move.
Saud Ur Rehman, a resident of Old Delhi, became unwell while standing at a queue outside a bank in Lal Kuan and was rushed to Lok Nayak Jai Prakash Narayan Hospital where he died.
"Rehman had been visiting bank for the last two days. He would reach the branch around 5 am and wait for hours in queue, but by the time his turn would come, either the bank went out of cash or the counters closed.
"Today also he was standing in the queue for a long. I got a call from him around 11.45 am and he told me that he was feeling unwell. I immediately reached the spot. I took him to the hospital where he died around 1 pm. Doctors said he died because of the strain, lack of rest and proper food," a family member, Siraj Ahamad, claimed.
---------------
A 70-year-old woman died while standing in a queue for exchanging demonetised banknotes outside a bank at Vuyyuru town in Krishna district, police said.
K Vijayalakshmi was standing in line outside the State Bank of India for over an hour when she suddenly collapsed, said a sub-inspector attached to Vuyyuru Town police station.
He said Vijayalaxmi wanted her old Rs 500 notes exchanged for new tenders.
"She was immediately rushed to hospital, where she was declared dead before admission," the SI said, adding that exact cause of her death will be known after postmortem.
---------------
Distressed over not being able to exchange old currency notes for the 'tilak' ceremony ahead of his daughter's wedding, a 40-year-old man died in Balia, Uttar Pradesh after suffering a heart attack, his family members claimed.
The 'tilak' ceremony of Suman, daughter of Suresh Sonar, a resident of Sahatwar Nagar panchayat, was scheduled for Wednesday. But he was short of cash due to the demonetisation of Rs 500 and Rs 1,000 notes, they said.
A dejected Suresh returned home on Tuesday evening after standing in a queue for hours at the State Bank of India branch. He suffered a massive heart attack on Tuesday night and died, family members claimed.
Superintendent of Police Vaibav Krishna said, "The matter was being in looked into."
---------------
IMAGE: Image: A dejected man waits in line till he can exchange his old notes at a bank. Photograph: Reuters
In Pune, a 54-year-old bank employee died after he collapsed in the branch during office hours, officials said.
The deceased, identified as Tukaram Tanpure, was working as a messenger with the State Bank of India's branch in Rajgurunagar, they said.
"Tanpure was working with us as a messenger and today afternoon, when he was sitting in one of the cabins of the branch, he collapsed on the floor and became unconscious," the bank's branch manager Shridhar Iyer said.
Tanpure was rushed to a Chakan-based private hospital, where he was declared dead on admission, he said.
When asked if the branch was crowded with customers in the wake of demonetisation, Iyer said since morning there was crowd in the branch, however, it was controlled and manageable.
---------------
A farmer and his father died while his wife and son were hospitalised after they consumed food allegedly laced with pesticide in Siddipet district in Telangana amid reports he was worried over "fall" in rate of his land in the wake of demonetisation of Rs 500 and Rs 1,000 notes.
Balaiah, 45, on Tuesday night allegedly mixed pesticide in chicken curry and chapatis, which he ate along with his father Galaiah, 65, wife Lakshmi and son Prashant, a B.Tech student, at their residence in Dharmaram village, police said.
"After some time all of them complained of ill health and Balaiah died on the spot while Galaiah died on the way to a hospital. Balaiah's wife and son, who were not aware that pesticide was mixed in food, are undergoing treatment at a hospital," said Dubbak police station Circle Inspector Niranjan.
In Assam, one person was killed and two others, including a security personnel, were injured on Wednesday when unidentified miscreants opened fire at a vehicle carrying cash in new currency notes for wage payment to employees of a tea garden in Assam's Tinsukia district, police said.