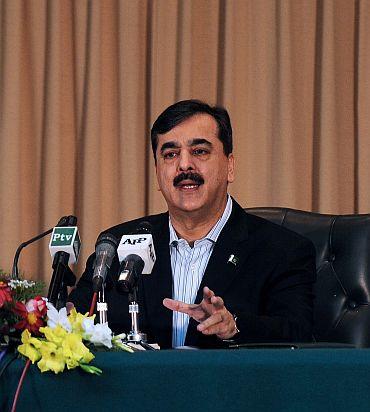 Hours after he fired the Defence Secretary over an affidavit row with the Army, Pakistan's beleaguered Prime Minister Yousuf Raza Gilani has said that the top defence official had violated rules of business and had to go.

Earlier in the day, Gilani dismissed Defence Secretary Lt Gen (retd) Khalid Naeem Lodhi, a move that came minutes after the military issued a terse statement responding to Gilani's comments that the Army and ISI chief had acted in an "unconstitutional" manner in filing affidavits on the memo issue without obtaining the Government's prior permission.

As confrontation loomed between the government and the Army, Gilani defended Lodhi's sacking, telling media persons that it was done only after hearing the other side.

Gilani also rejected murmurs of any threat to democracy, saying it was now Pakistan's "destiny".

"The Senate elections will be held on time, democracy will stay in Pakistan, democracy in Pakistan's destiny now and all institutions will function under the government," he said.

Gilani also said his government had nothing against "anybody".

"We had conducted an inquiry and the Ministry (of Defence) took responses in writing, then we sent them to the Law and Justice Ministry, and after receiving their comments, we were left with no choice (but to dismiss the Defence Secretary) because he did not follow the rules of business," Gilani said as reporters bombarded him with questions.

Gilani said under the lawful procedure, the Defence Minister, the Ministry for Law and Justice as well as the Attorney General had to be kept in loop while filing a response in the Supreme Court, but the Army Chief and the Director general of ISI filed to do so.

"They did not seek a confirmation from the Minister and bypassed the Law and Justice Ministry," he said, pointing out that they sent their replies directly through the Defence Secretary.

Asked if the Inter Services Public Relations had flouted another procedure in issuing the statement during the day, Gilani said the Army Chief Gen Ashfaq Pervez Kayani had spoken to him before the statement was released.

The ISPR statement said that Gilani's allegation that the Army chief acted in an "unconstitutional and illegal manner" had "very serious ramifications with potentially grievous consequences for the country".