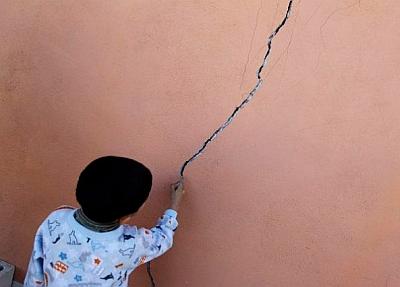 High intensity quake on Saturday shook national capital New Delhi and adjoining areas, prompting people to rush out of offices and homes and leading to restriction of metro services.
However, no loss of life or property damage was reported in any part of the city.
According to a senior Delhi Metro Rail Corporation official, services were not suspended but were put on restricted mode by slowing the speed of the metro trains, causing a little delay in the services.
"As a precautionary measure we restricted the services by slowing the speed of the trains. Services are now normal," the official said.
The DMRC claimed that so far they have not received any reports of damage or crack in the metro line.
We will carry out inspection to check if earthquake caused any damage to the property, the official said.
Delhi police and Fire department officials also said they have not received any complaints of damage or causality.
According to a senior government official, all emergency support functionaries including police, civic agencies, hospitals and fire services have been alerted.
Civil defence volunteers have been alerted and instructed to do patrolling in their areas, the official said.
Delhi Chief Minister Arvind Kejriwal appealed the people to maintain calm.
"Earthquake tremors in Delhi. I appeal to people to maintain calm. Officials out in the field to assess the situation," he said on micro-blogging site Twitter.
Panic triggered after the tremor and people rushed out of their offices, market places and buildings.
"As soon I felt the shock, we took stairs and rushed out of the building. All the residents waited outside for over 30 minutes expecting another spell of tremor," Sudakshina Rathore, a Mayur Vihar resident said.
The netizens also shared their experiences on the social media and the hashtag #earthquake was trending.
Some residents also complained of mobile network congestion as they were trying to reach their friends andrelatives soon after the earthquake.