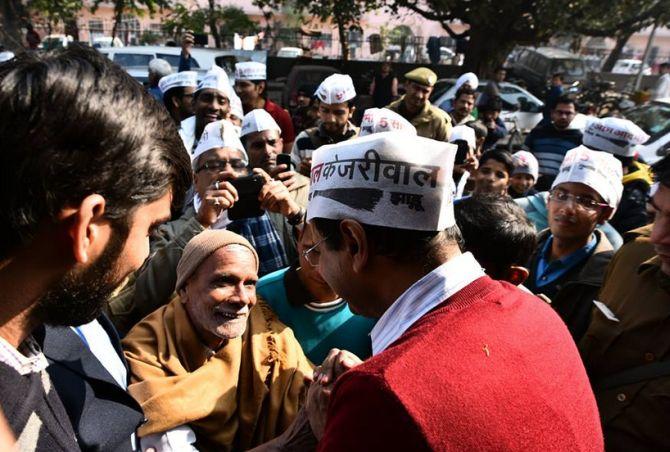 Aam Aadmi Party chief spokesperson Yogendra Yadav tells Somesh Jha how Delhi has moved beyond Shahi Imam-type politics. Yadav also takes a dig at Finance Minister Arun Jaitley, and says the AAP had formulated its policies on the streets, unlike the Bharatiya Janata Party.
Edited excerpts:

The AAP has declined the support of the Imam of Jama Masjid a day before Delhi is going to polls. Why?

Above all, we don't believe in the old style politics of caste and communities. The whole point of an Aam Aadmi Party is that people expect a different kind of politics. We don't want politics frozen on identities of birth. The reason why we would not take support from the Imam or any other sectarian leader from any religion is because we want to appeal to the citizens of Delhi as citizens and not as Hindus, Muslims or Sikhs. I do believe AAP has already demonstrated that it's feasible to do so. Muslim politics of Delhi has moved beyond Shahi Imam-type of politics about 20 years ago. Unfortunately, the mainstream politics didn't have the courage or the wisdom to see this. The fact is that an ordinary Muslim is sick and tired of the so-called Muslim politics.

United States President Barack Obama was critical of India's growing religious intolerance. Do you think intolerance has grown under the new regime?

The fact is the founders of our republic had the foresight and courage to see that diversity was our strength and not weakness...Not something we needed to dilute but an opportunity to cultivate. It is only fair to say that under the new regime, this core principle of our republic is being undermined... Not through law or constitutional amendments, which is what the secular politics feared, but through mundane moves on the ground because it is after all the thandedar (policemen) interprets the Constitution of India for the public. If the thanedar reduces the constitutional rights by two notches, it stands changed without an amendment in Parliament of India. This is what is happening. The number of communal incidents over these few months and the kind of language being used against minorities is enough to push them against the wall. It could well be a perception but this is a perception that matters and needs to be addressed.

Finance Minister Arun Jaitley said AAP is more comfortable on streets than the Secretariat…

Jaitley seems to have been out of touch with the Delhi election campaign. In the past few months, we have spent much of our energy in producing positive blueprints for Delhi citizens. We have produced White Papers on water and electricity, held dialogues on women's safety, education, employment, health. We have listened to the needs and aspirations of rural Delhi and unauthorised colonies and proposed new mode of governance for the RWA residents... We have done it on the street. Yes, we are comfortable on the street unlike Jaitley. But we are going to demonstrate that we can translate these blueprints into reality as well. We fully realise there were concerns and anxiety in certain quarters about our governance capabilities. This is precisely what we had addressed in the course of this campaign.

Many political parties have offered support to AAP. Will it become a rallying point for non-BJP, non-Congress parties?

Election time is like a wedding day. Whoever comes to your house with flowers, you bow down and accept it. At the same time, it is largely symbolic as none of these parties have had any substantial presence in Delhi. It is also fair to acknowledge that they have not offered this support in the hope of an ideological political rapprochement…And it is only realistic to see that this gesture does not make us political allies. AAP seeks to be an alternative not just to the BJP, Congress and non-Congress and non-BJP, we see ourselves as a potential alternative to the political establishment of the country, which includes all parties which have been in governance at the Central or the state level. We do not see ourselves as a player in these opposition unity games, whether it is opposition against the Congress or the BJP.

Many commentators have questioned the "freebie" style of governance of AAP. Do you agree to this? What is the economics behind that?

The real question is whether these subsidies are for the right kinds of things, offered to the right kind of group and are affordable. I refuse to be apologetic about offering 700 litres of water a day for a 5-member family free of cost. I thought governments come to power to do something for the people and one of the bare minimums of existence is water. I see nothing wrong in cross subsidising this by leveraging more resources from those who make excess use of water, which is what we propose to do. Please remember, water has always been subsidised in Delhi. We are not the first one to do so.

On electricity, our principle plank is not that it is expensive and let's reduce its price but it is that the electricity pricing is fraudulent and this needs to be audited and prices calibrated accordingly. In the meanwhile, we are offering a subsidy in the belief that as is evident to us from the reports given by one of the regulators that the entire pricing is rigged. All I would say is instead of rhetorical flourishes about freebie culture and so on; let's get down to realistic numbers and have an informed debate. Maybe there are places we need to learn and tighten our belt. Let's have an informed and detailed discussion rather than rhetorical discussions.

Does this means that these policies could be fine-tuned after detailed discussions and debates in the political foray?

We have arrived at our position after process of dialogue with all kinds of stakeholders. If in the course of implementation, we run into difficulties – as everyone does – and if there should be new learnings, why shouldn't we learn to that? We should be open to correction and learning as we go along.

This time you have not given any deadline to pass the Jan Lokpal Bill for which the party had resigned…

I guess it is because you learn that people have much more patience with their governments than what we had originally imagined. They want to do it properly rather than to do it in a hurry. When we came to power in Delhi, questions were raised only in four days of our government. Then we saw another government was formed (at the Centre) and no questions were asked for four months, let alone four days. This means, people are willing to provide a longer window to a new government to settle down and to do its job properly and thoroughly.

Do you think Kiran Bedi made a stronger case for AAP's comeback?

I think it will be too early for us to arrive at any definitive conclusions on that. We don't know the results yet. If BJP loses badly, which I think it will, the temptation to put all the blame on Kiran Bedi is always there. I suspect this is precisely why she has been brought in. She is the insurance policy of the prime minister. What we know is the BJP was unable to answer our question regarding who is the face to take on Kejriwal. The move of projecting Modi against Kejriwal was not working and Modi's January 10 rally was the proof of that. I don't know if Bedi made matters worse or the episode of bringing her did because the manner in which she was inducted led to organisational resentment of the kind the BJP is not used to. So, in fairness, you have to grant that she made things worse for herself by her public pronouncements and by the display of the difficulties she was facing while making a transition into political life.

BJP President Amit Shah said the Delhi elections would not be a referendum on the central government led by Modi. Do you agree?

I think BJP needs to make up its mind about it. It is true that one state election should not be a referendum on the Central government provided that the Centre doesn't make it so. In the past few weeks, the PM has gone out of his way to convince everyone that it is a national election. He said in his rally in Delhi that it is not merely of national but international significance. He put his entire Cabinet, including the finance minister three weeks before the Budget. This is extraordinary. Amit Shah has conveyed to his workers that this is a matter of do-or-die for them. So, the extraordinary significance that they have attached to this election forces everyone to think that it would have more national implications than normally be the case. Now, finally the BJP is saying it is not a referendum. What more can you say than admitting that they are paranoid, nervous and they need an insurance policy again.