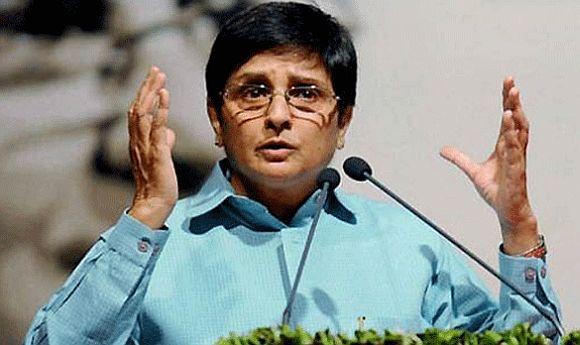 In the face of the exit polls that show the Bharatiya Janata Party losing the Delhi assembly elections, the party's chief ministerial candidate Kiran Bedi on Sunday said that a defeat or victory she will take the responsibility for its showing.
The comments by Bedi are seen as an attempt to distance Prime Minister Narendra Modi from a possible defeat of BJP.
Counting of votes for the keenly contested assembly polls on Saturday will be taken up on Tuesday.
The comments came even as Union minister and senior BJP leader Nirmala Sitharaman met Bedi and spent over an hour at the former IPS officer's UdayPark residence in south Delhi.
"A survey is always a survey. Also, I think we need to wait for the 10th for the final result. Because in some assembly seats the margin is very less. So it could swing any way," Bedi told reporters when asked to comment on the projections by the exit polls shown on TV channels.
To a question about the possibility of a BJP defeat, Bedi said that whatever be the poll outcome whether it is win or defeat she will take the responsibility.
Bedi had yesterday also said that she would take "full responsibility" if her party suffers a loss.
The Aam Aadmi Party appears set for a sweeping victory, according to Saturday's exit polls. The BJP was projected to be the second largest party way behind AAP, the polls said.
"We will talk after the results come out on 10th. We're hopeful that the results will favour us," Sitharaman, the Union Commerce and Industries Minister, told reporters after her meeting with Bedi.
Sitharamam said Bedi's statement that she would take "full responsibility" if her party suffers a loss was her individual statement.
"She is the CM candidate and that statement is her own. She is being upfront about it," the Minister said.
Two days ahead of the Delhi polls, BJP chief Amit Shah had contended that the election outcome cannot be a referendum on the functioning of the Modi government.
Shah's comments are in line with the remarks of Union Minister M Venkaiah Naidu on Delhi polls.
"It is true that it is an election for chief minister's spot. The election in a state cannot be a referendum (about Centre's functioning). While this is indeed true that the good work of the Government of India has its impact on elections, a state election cannot become a refrendum (on Centre's functioning) because of that one thing," Shah had said.
Holding that the electoral mandate in the national capital cannot be seen as a referendum on the Modi government, Naidu had told PTI in an interview, "It is an election for chief minister and not for prime minister."