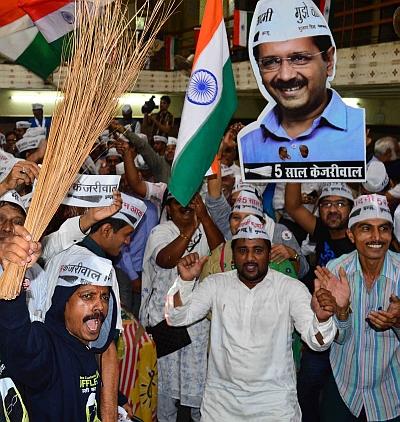 With the Aam Aadmi Party heading for a landslide win in the Delhi assembly elections, reactions have started pouring in. Here's what leaders have been saying:

Arvind Kejriwal: This was people's elections. I will be everyone's CM. Ending bribery top priority.
Kiran Bedi: "Full marks to Arvind. Congratulations. Now take Delhi to the heights it belongs to. Make it a world class city"

Prime Minister Modi: "Spoke to Arvind Kejriwal & congratulated him on the win. Assured him Centre's complete support in the development of Delhi"

Omar Abdullah: "Wow, well done #Delhi & well done @AamAadmiParty. Good luck to @ArvindKejriwal for the next 5 years. If there is lesson for the #Congress in this it is that Modi & BJP aren't unbeatable if you take the fight to them, don't wait for mistakes."

Mamata Banerjee: "This is a victory for the people and a big defeat for the arrogant and those who are doing political vendetta & spreading hate among people. Delhi election is turning point of present political situation. Shows political vendetta has no place in a democracy. Country needed this change."

Anna Hazare: "Urge Kejriwal not to forget aandolan. The public earlier thought that 'ache din ane wale hain' but the good days came only for industrialists and that's why AAP's acceptability increased among the people. Public's parliament is bigger than any government. They have given their mandate."

Yogendra Yadav (AAP): "We have stopped the Modi juggernaut. Hope is alive."

Manish Sisodia (AAP): "Now, the interpretation is that the people of Delhi want an honest government, the people want to get rid of hollow speeches or statements like women should give birth to four children or 'ghar wapsi'. Instead they want a government that has an action plan for Delhi. AAP has the vision for Delhi. AAP has the action plan for Delhi. AAP has the credible leadership for Delhi."

GVL Narsimha Rao (BJP): "In this election it was a referendum on Arvind Kejriwal. That's how people of Delhi saw it. I think people have certainly voted for Kejriwal. It was a referendum of AAP's 49 days in office and its performance. People felt they should be given a chance," Rao said when asked if it was a referendum on Narendra Modi's government."
Giriraj Singh (BJP): We have not lost this election. Our vote share is more or less intact. Like Abhimanyu was killed through deceit by enemies, BJP has been defeated by polarisation of pseudo-secular forces. Members of a particular community were polarised before elections."
D Raja (CPI): "These people, through their own experience, have given a big blow by completely rejecting the communal and sectarian politics of the BJP. The Congress was also in deep turmoil and the people voted for a credible alternative in the given situation."
Nitish Kumar (JD-U): "Hawabazzi se kaam nahi chalega (things will not work only on the basis of lofty talks).... Astonishingly in such a short span of nine months of Narendra Modi government, the mood of people is changing against him. He (Modi) talked lofty things on return of black money, paying enhanced bonus to farmers, special status to Bihar in 100 days but none of them are visible even after lapse of nine months."
Sanjay Raut (Shiv Sena): "The country will run under collective leadership. While Modi's leadership is strong, it must be borne in mind that there are different voices and they should be respected. There is no single and supreme power, the power belongs to people."
K Chandrasekhar Rao (TRS): "The Delhi assembly election results are an example to show that the people are thinking differently from traditional politics."