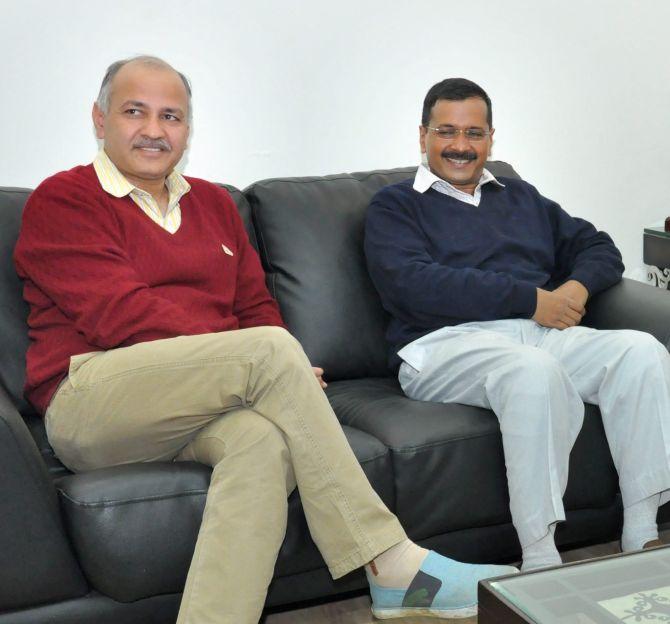 Arvind Kejriwal will be heading a seven-member Aam Aadmi Party cabinet which will include his close confidante Manish Sisodia as deputy chief minister and four new faces, party sources said on Thursday.
There will be no woman in the new cabinet.
The party has submitted a list of the seven cabinet ministers to Lt Governor Najeeb Jung. The swearing in scheduled for Saturday.
The party is understood to have decided to induct Jitendra Tomar (Tri Nagar MLA), Sandeep Kumar (Sultanpuri Majra) and Asim Ahmed Khan (Matia Mahal)- the only minority face- in the government.
Name of Karawal Nagar MLA Kapil Mishra was doing the rounds for a ministerial berth but was later replaced by senior Political Affairs Committee member and Babarpur MLA Gopal Rai.
All the four are first time legislators and the decision to induct them was taken at AAP Political Affairs Committee meeting in the wee hours on Thursday, sources said.
The list of ministers was sent to Lt Governor Najeeb Jung.
Besides Sisodia, a close confidant of Kejriwal, another former AAP health minister who is going to make it this time also is Satyendra Jain, MLA from Shakur Basti.
However, Rakhi Birla, Saurabh Bharadwaj, Somnath Bharti, Girish Soni -- who were in AAP's earlier cabinet -- will not make it this time.
Sources said while former law minister Somnath Bharti will be kept away from the cabinet till his name is cleared from the case relating to a mid-night raid where he had led a mob and raided the house of African women, Greater Kailash MLA Saurabh Bharadwaj has given personal to opt out of the new government.
Services of former women and child welfare minister Rakhi Birla and employment and labour minister Girish Soni will be used for the organisation.
Sisodia is likely to be given education and urban development among other departments.
Tomar, a lawyer by profession, may be given law.
Sisodia was de facto number two in the previous AAP government and had handled key portfolios like education, urban development, PWD, land and buildings.
"There is a lot of brain storming going on in the party. But it would not be right to talk about it (portfolios) until it is formally announced," Sisodia told reporters when asked about his appointment as the deputy CM.
According to sources, the decision to make Sisodia the deputy CM was taken at a meeting of AAP's Political Affairs Committee last night at Kejriwal's residence in Kaushambhi.
Sisodia is being given the responsibility so that chief minister-designate Kejriwal can focus on building the party at the national level, they said.
It was also decided that Shahdra MLA Ramniwas Goel will be the speaker while Bandana Kumari from Shalimar Bag constituency, will be deputy speaker in the Delhi legislative assembly. The latter is also heading AAP's women wing.
Party sources added that the half of the cabinet could be replaced in a year if it doesn't perform.
"This time, the party does not have an issue of legislative arithmetic. If any of the ministers does not perform, then he could be replaced. More importantly, the party need not indulge in politics of tokenism this time," said the source.