'This exercise helped the Aam Aadmi Party and its leaders reach out to more voters and at the same time, fine tune the poll strategy.'
IIT-B student Divyank Agarwal, part of a group of students who created a tool to trawl social media and steer AAP's campaign, speaks to Divya Nair/Rediff.com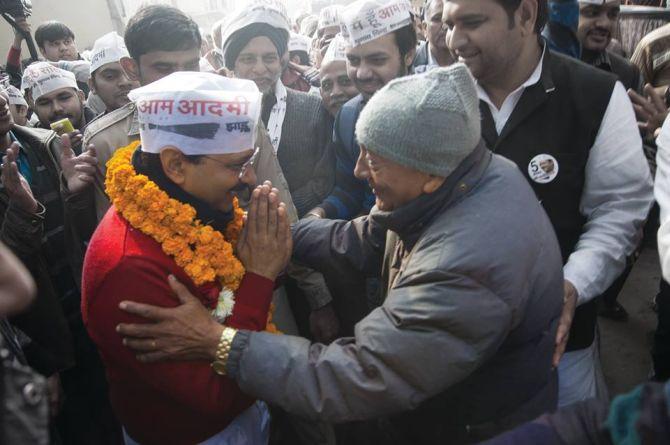 Image: Arvind Kejriwal on the campaign trail. Photograph: Kind Courtesy AAP's Facebook page
Two months ago, Divyank Agarwal, a final year student at the Indian Institute of Technology-Bombay, worked with a team of fellow students and developed an algorithm that monitored more than a thousand tweets and messages on social media, especially the language, and analysed voters' sentiments and reactions to various issues that concerned them about the Aam Aadmi Party, the state and its leaders.
The results and analysis were then conveyed to the AAP leadership in Delhi who used the data to fine tune the party's election strategy and interact with voters.
The algorithm was also used to determine the swing in the Delhi electorate's mood.
Agarwal tells Divya Nair/Rediff.com how this activity helped improve AAP's social and public image:
Corruption is an important issue that affects all of us, particularly the common man.
Most political parties and leaders in India talk about development, good roads, improved technology etc. Arvind Kejriwal is, and has been one of the few leaders, who raised the issue of corruption in India.
My friends and I could easily identify with the cause. I have been following Kejriwal ever since he took up the anti-corruption crusade that united millions. He formed a political party just so that he could deliver on the cause he took up so passionately.
Although my hometown is Jaipur and I am studying here in Mumbai, I could relate to most of the issues AAP raised in its poll campaign -- water supply, electricity, fair governance.
People in Delhi had a lot of hope in Kejriwal, who identified him as the messiah of the common man.
His resignation came as a shock, but a lot of people took advantage of his decision and made a mountain of a molehill, which I felt was unnecessary.
As I spoke to some of my friends at IIT-B, we realised there was still a lot of promise in Kejriwal and his party. AAP deserved a second chance and we wanted them to win and at least get a five year term to work on their promises.
In the last two months, some of us visited the party office in Mumbai and devised a tool to connect with voters through social media.
Our task was to carefully analyse the sentiments of people regarding the party -- through tweets, comments and social media posts -- and convey them to the party office in Delhi.
This exercise helped AAP and its leaders address and reach out to more voters and at the same time, fine tune the poll strategy according to current needs.
Four of us, including me, took a train to Delhi to help AAP in its campaign directly. When we reached, we saw thousands of volunteers who, just like us, had come to lend their support.
We campaigned at Model Town, Lal Bagh and Gur Mandi in Delhi, interacting with voters, urging them to step out of their homes and exercise their right to vote.
Some of them complained that they were yet to get their voter IDs and ration cards and so could not vote.
During our door-to-door campaigns, we realised that the residents in Lal Bagh were not at all happy with the living conditions and were upset that nothing had been done by the previous government.
Some of them complained how their water and electricity connections were deliberately cut off from time to time.
Although it was impossible to tell who would vote for whom. We saw that over 60 per cent voters were in favour of AAP which strengthened our hopes further.
On February 7, some of us visited election booths to ensure that polling went smoothly and there was no untoward incident.
All the volunteers have been working day in and out to reach out to voters and make the campaign successful.
Now that the Aam Aadmi Party has won, we feel our efforts have paid off. The people of Delhi have responded well.
Also I feel, any party will require at least five years to prove itself.
I hope the Aam Aadmi Party with Arvind Kejriwal as its leader lives up to our expectations and hopes this time.
ALSO READ: The Message of the Delhi election