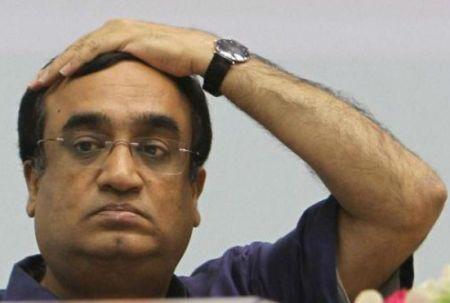 Ajay Maken, who led the Congress campaign, quits after its disastrous defeat. Photograph: PTI

It can't get worse that this for the Congress.
The party, which drew a blank in Delhi in the last Lok Sabha polls, met a similar fate this time as it failed to open its account in the assembly polls.
The Congress that had once ruled the capital for 15 years in a row was reduced to zero seats prompting the resignation of Ajay Maken, who led its disastrous campaign, as its general secretary.
Maken owned moral responsibility for the defeat while a senior party leader suggested that internal dissension was also one of the reasons for the total decimation of the party in Delhi.
Insulating Rahul Gandhi from the blame for the defeat, Maken said that the election was fought on local issues.
At the same time, he also appeared placing a portion of the blame at former chief minister Sheila Dikshit's door saying that people questioned the Congress as to why it did not fulfill the promises made now when it was in power in Delhi for last 15 years.
"Whenever we went to people with our manifesto promises like cheap electricity and right to shelter, people questioned why did you not do in last 15 years. We have to rebuild that credibility among people.... We will re-invent the party," he said.

Maken and all other 69 candidates of the Congress were defeated in the election.
The Delhi verdict was a shocker for Congress, which had put its best foot forward for the contest by going for a leadership change and fielding its former MPs and inducting a large number of new faces to turn the tide of anti-incumbency, which had cost it dearly in the 2013 assembly polls.
However, no strategy, including Rahul's road shows to inject some energy into the demoralised party workers and early declaration of the names of its candidates, could work as all its leaders lost badly.
Stung by the humiliating defeat, apart from Maken, the All India Congress Committee in-charge for Delhi, P C Chacko, and Delhi Pradesh Congress Committee chief Arvinder Singh Lovely have all resigned taking moral responsibility for the debacle.
Maken, who was the Congress campaign committee chief, finished third in Sadar Bazaar. So was the fate of former Delhi minister Kiran Walia, who contested against Arvind Kejriwal for the New Delhi seat.
In the 2013 state polls, which threw a hung verdict, the Congress won only eight of the 70 seats, placing it at a distant third after the Bharatiya Janata Party and the Aam Aadmi Party.
The AAP swept Delhi on Tuesday winning 67 seats with only three going to the BJP.

Complete coverage: The Delhi elections