Delhi Police faced a tough time in 2016 when crime cases surged by over nine per cent in the national capital while 73 per cent cases remained unsolved.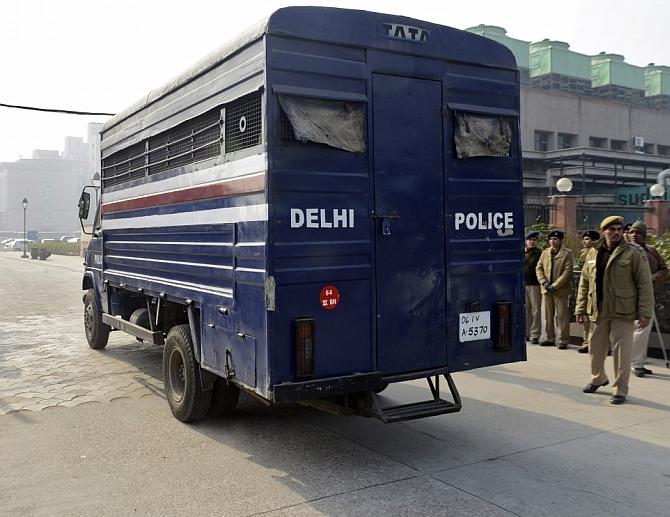 But not all was gloomy for the 80,000-strong force which achieved a high detection rate in heinous crimes like murder and dacoity, even as rape cases saw a marginal dip of two per cent and crime against women went down by 10.97 per cent.
According to the Delhi Police annual report, released on Monday, 2,09,519 cases in all were reported with it in 2016 as against 1,91,377 in the previous year, a rise of 9.48 per cent.
Also, out of the total cases lodged, 1,53,562 (73.3 per cent) remained unsolved.
Delhi Police data suggests that as opposed to 2015 when 2,199 rape cases were reported, 2016 saw 2155 such cases being lodged.
Analysis of the cases shows that 96.43 per cent of the rapes were committed by persons having acquaintance with the victim or their family members and only 3.57 per cent cases involved strangers.
During 2016, 4,165 molestation cases were reported as compared to 5,367 cases in 2015. Out of these, 3,033 cases (72.82 per cent) have been solved.
According to the statistics, crime against women went decreased by 10.97 per cent.
Police statistics claimed that that heinous crimes like murders, dacoity and rape came down by 26.36 per cent.
Motor vehicle thefts increased to 38,644 in 2016 from 2015, with the police managing to recover only 4,473 of the stolen vehicles.
However, police claimed an improvement of 148.9 per cent from last year in vehicle recovery cases.
Of the 14,307 burglary cases reported, only 2,405 were solved. Of the 9,571 snatching cases reported last year, 6,207 remained unsolved.
The detection rate of heinous crimes increased to 12.82 per cent as police claimed that 71.67 per cent of such matters reported last year were worked out.
Deviating from the trend of hosting the annual press conference every year, Delhi's new police commissioner Amulya Patnaik did not address the media at the event.
Media persons were instead handed out books containing statistical analysis of the year gone by for Delhi Police.
With demonetisation being the buzzword in the last two months of 2016, police had its hands full managing crowd outside the ATMs and ensuring law and order.
Eight cases and six daily diary entries were lodged in which Rs 27.95 crore were seized, out of which Rs 3.01 crore were in the denomination of Rs 2,000.
To its credit, Delhi Police's Special Cell unit arrested 12 terrorists in 2016 and was instrumental in busting a Daesh (ISIS) module conspiring to commit terrorist acts in a joint operation with the NIA and Kerala Police in October.
The Crime Branch busted an espionage ring with the arrest of four people who were allegedly sharing sensitive defence documents and deployment details of BSF along the India-Pakistan border with a Pakistan High Commission staffer.
It also busted two interstate rackets allegedly involving unauthorised procuring and selling of CDRs with the arrest of eight persons, including two policemen from Rajasthan and UP.
Last year also saw the arrest of 93 criminals who were carrying a cash reward either declared by police or other state's police. Notable among them was the arrest of Khalistan Liberation Front chief Harminder Singh aka Mintu, who had escaped from Punjab's Nabha jail and carried a reward of Rs 25,00,000.
A drive was launched against Fake Indian Currency Notes last year and associated with other agencies like RBI, Customs department and Intelligence Bureau.
Last year, counterfeit currency worth Rs 5.74 crore was recovered and 80 cases were registered, the Delhi Police data said.
The number of deaths due to road accidents in Delhi has been declining steadily over the past few years, with fatalities coming down from 2,153 in 2010 to 1,591 in 2016.
The rape cases in the national capital declined marginally by two per cent in 2016, while the number of molestation cases saw a dip of 22.40 per cent during the same period, according to a Delhi Police report.
Rape cases saw a decline of two percent while molestation and cases of 'insult to the modesty of women' declined by 22.40 per cent and 38.47 per cent respectively.
Delhi Police data, which was release today, suggests that as opposed to 2015 where 2,199 rape cases were reported, 2016 saw 2,155 rape cases being reported.
Analysis of the cases shows that 96.43 per cent of the rapes were committed by persons having acquaintance with the victim or her family members. Only in 3.57 per cent cases, strangers were involved, the records show.
During 2016, 4,165 cases of molestation were reported while 5,367 cases lodged in 2015. Out of these, 3,033 cases (72.82 per cent) have been solved.
The Delhi Police records claimed that districts solved 86.50 per cent of the rape cases reported and 72.82 per cent of molestation cases.
The records claimed that the last year saw a decline in incidents of rape and molestation per lakh of population.
While the figure pertaining to rape cases per lakh of population was 9.4 in 2013, it rose to 12.3 in 2014, only to decline marginally to 12.2 in 2015 and 11.7 in 2016.
Similarly, the figure for molestation cases per lakh of population was 20.2 in 2013 and increased to 24.5 and 29.7 respectively in 2014 and 2015 only to decline to 22.6 last year.