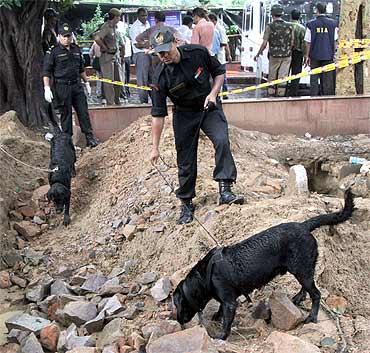 A special National Investigation Agency court has dismissed the bail plea of Amir Abbas Dev, a co-accused-turned-approver in the September 2011 Delhi high court blast case in which the lone arrested accused is facing trial.
During an in-chamber hearing, district judge I S Mehta denied the relief to Dev who had moved the court seeking bail on the ground that recording of his statement in the case has already been concluded, court sources said.
Dev, who was initially arrested by NIA in connection with the blast at the Delhi high court's reception on September 7, 2011 in which 15 people were killed, had later turned approver. Wasim Akram Malik, the lone arrested accused, is facing trial in the case.
Dev had earlier given two statements before a magistrate under section 164 of the CrPC and both his testimonies had been placed before the special NIA court during his examination in the trial. A statement recorded by a magistrate under section 164 of the CrPC binds a person and any subsequent deviation would make him liable for prosecution for the offence of perjury.
In his two statements, Dev had given details of conspiracy behind the blast at the high court's reception and had also stated about hatching of conspiracy and involvement of other accused in the blast.
The court had earlier framed charges against Malik under various provisions of the Indian Penal Coed, including that of waging war against India, (the Unlawful Activities Prevention) Act and the Explosive Substance Act.
The trial court had initially declined the NIA's plea to prosecute Malik under stringent charge of waging war against India which entails maximum punishment of death penalty but the Delhi high court had ruled otherwise.
The trial court had earlier framed charges, including that of murder, against Malik under the IPC, Unlawful Activities (Prevention) Act and the Explosive Substance Act for his alleged role in the attack at the high court's reception area.
The court had also framed charges against Malik for offences punishable under sections 120-B(criminal conspiracy), 440 (mischief committed after preparation made for causing death or hurt), 436 (mischief by fire or explosive substance), 302 (murder), 307 (attempt to murder), 323 (causing hurt) and 325 (voluntarily causing grievous hurt) of the IPC.
While deciding to frame charges against Malik, the trial court had referred to Dev's statement to the magistrate under Section 164 of the CrPC. The NIA had filed a charge sheet against six persons, including Malik, Dev and a minor. The juvenile's case is being adjudicated separately. Amir Kamal and Junaid Akram Malik, suspected members of Hizb-ul Mujahideen and evading arrest, were also named in the charge-sheet.
The NIA had told the court that the sixth accused Shakir Hussain Sheikh, alias Chota Hafiz, was killed in an encounter with security forces on December 20 last year in Kishtwar in Jammu and Kashmir.