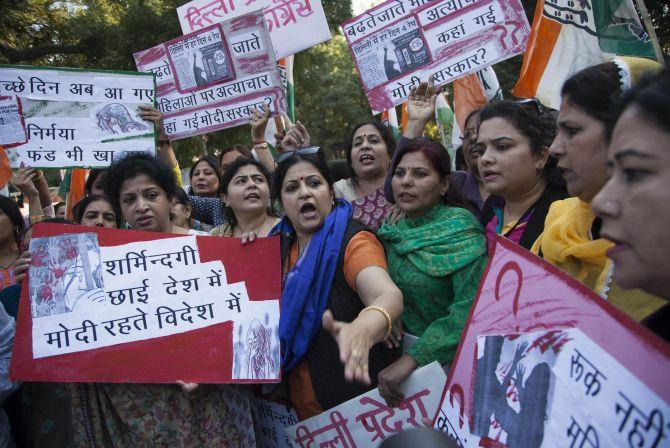 Women carry out protests in the nation's capital after a woman was raped by a taxi driver on Friday. Photograph: PTI photo
International taxi-booking service Uber was banned in the capital on Monday and government mulled similar action across the country as outrage grew over the alleged rape of a 27-year-old woman executive by its driver who is stated to be a repeat offender and was jailed before.
The case had also a new twist over a 'character certificate' issued in the name of an additional deputy commissioner of police to the accused driver Shiv Kumar Yadav in August this year with Delhi Police Commissioner B S Bassi calling it fake and ordering a probe into this and registration of an FIR. This certificate was provided to Uber, police said.
Delhi police was also considering filing an FIR against Uber as investigators probing the rape case have found "criminal negligence" and "abetment" of crime by the US-based cab company whose general manager (marketing) Gagan Bhatia was grilled on Monday. Bhatia claims to be the in-charge of the company's India operations, the cops said.
A day after Yadav, 32, was arrested in Mathura, the Delhi government also blacklisted Uber from providing any transport service in the capital even as it emerged that Yadav had spent seven months in jail in a rape case in 2011. Yadav was acquitted in that case.
"The transport department has banned all activities related to providing of any transport service by www.uber.com with immediate effect. The department has also blacklisted the company from providing any transport service in the NCT of Delhi in the future," the Delhi government said in a statement.
Yadav was on Monday remanded to police custody for three days by a Delhi court. He will be in police custody till December 11. Police said Yadav needs to be interrogated for recovery of a mobile phone used by him.
Official sources said the union home ministry is planning to ask all state governments and administration of nine union territories, where Uber runs its cab services, to put a ban on it.
Uber cab services are available in Bangalore, Mumbai, Hyderabad, Chennai, Jaipur, Ahmedabad, Chandigarh, Kolkata and Pune.
The rape case also brought to spotlight the laxity in enforcement of established norms governing the transport sector in the capital. "He did not have the mandatory PSV badge that is issued by the state transport authority after getting a police verification. Uber did not bother to check that and hired him," said a police officer.
Yadav, who was driving the Uber cab, allegedly raped the woman on Friday night when the victim, who works for a finance company in Gurgaon, was headed back to her home in north Delhi's Inderlok area.
The police said that during investigations prime facie it has emerged that criminal negligence was made out on the part of Uber as a number of alleged shortcomings were found on their part as neither the driver was not verified nor there was a GPS tracking device in the car.
As per norms, it is mandatory for all private cab service providers to carry out a background check and obtain police verification of the drivers.
Meanwhile, the city witnessed protests at various places including outside Home Minister Rajnath Singh's residence. Holding placards and chanting anti-government slogans, the protesters demanded better security for women and punishment for the driver.
Should the Uber cab service been banned? What do you say?

Questions are now flying hard and fast as to why the company had not carried out a proper background check. Why did the company hire such a person in the first place?

So, what is your say?

Was the company irresponsible? Is the government right in banning the cab service?

Please post your opinions in the comment box below.