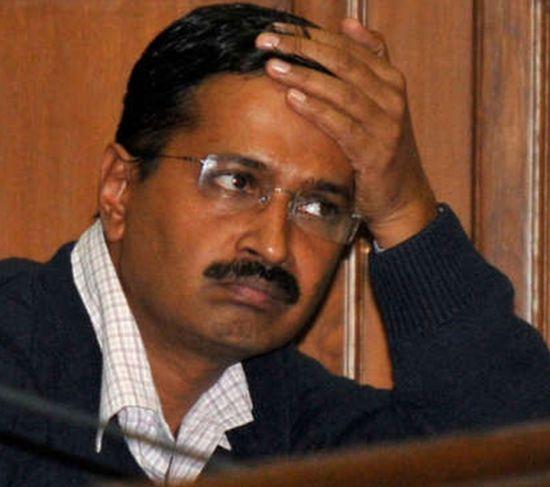 Delhi Chief Minister Arvind Kejriwal and five other Aam Aadmi Party leaders were on Saturday put on trial by a court in Delhi in a criminal defamation case filed by Union minister Arun Jaitley in the Delhi and District Cricket Association controversy, amid chaotic scenes in the court room.
During the proceedings, some advocates got into a heated argument over non-appearance of Jaitley and on the issue whether the matter should be adjourned.
After one of the lawyers issued threats to another counsel inside the court room, the accused persons -- Kejriwal, Ashutosh, Kumar Vishwas, Sanjay Singh and Raghav Chaddha -- who were present in the court, said they were facing a serious threat and cited the Jawaharlal Nehru University sedition case violence a year back when men in the black robes had beaten up varsity students and journalists.
Chief Metropolitan Magistrate Sumit Dass, thereafter, called security personnel and ordered that the court room be cleared barring those who were connected with the case.
Thereafter, the notice was framed against the accused under section 500 (punishment for defamation) of the Indian Penal Code to which they pleaded not guilty and claimed trial.
Notice was also famed against another AAP leader Deepak Vajpai who was represented by his counsel.
Later, the court posted the matter for further hearing to May 20.
Before the court's order, some of the defence counsel sought discharge of the accused citing absence of Jaitley at "such an important stage" and said that notice should not be framed in absence of the complainant.
Kejriwal's counsel said, "Let not a message go out of this court that this is luxury litigation by the complainant and, therefore, it is going like a fast-track proceeding.
"It's a political case. There are many people languishing in jail due to the pendency of cases and trials. Let this trial also proceed in the due course and not on a fast-track basis," the CM's advocate Rahul Mehra said.
Jaitley had filed the complaint alleging that the accused had defamed him in a controversy regarding DDCA which he headed for over a decade.
A civil defamation suit has also been filed by Jaitley before the Delhi high court in the matter seeking Rs 10 crore as damages.