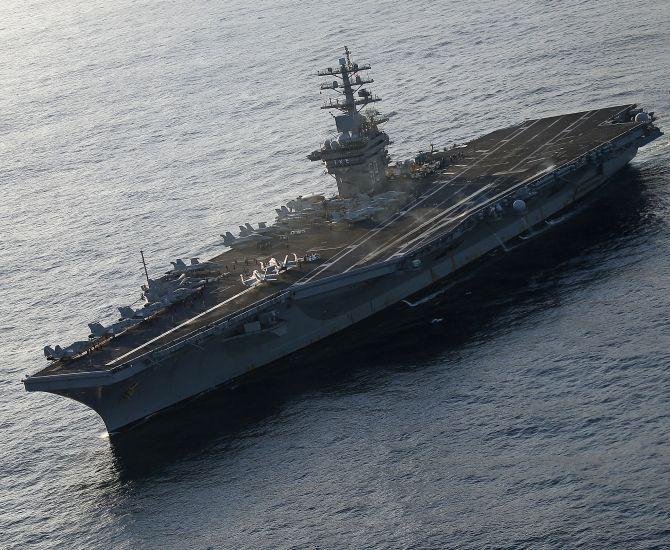 Defence Minister Manohar Parrikar has made a record of sorts.
On Friday, the 'raksha mantri' boarded the USS Eisenhower to view flight operations while the ship was at sea.
The visit comes as Parrikar made his way to the United States to boost defence partnerships and expand military engagements between the two countries.
Along with United States Defence Secretary Dr Ashton Carter, Parrikar surveyed the aircraft carrier.
Parrikar now owns the honour of being the only Indian defence minister to board a US aircraft carrier.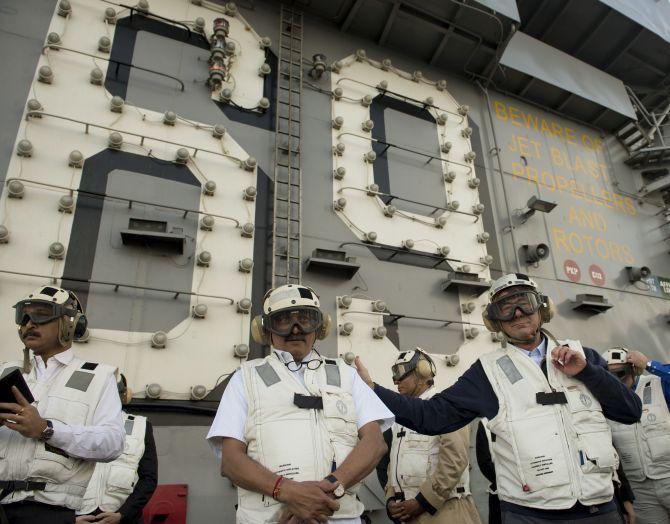 Image: Secretary of Defense Ash Carter tours the USS Dwight D Eisenhower with India's Minister of Defense Manohar Parrikar. Photograph: Senior Master Sgt Adrian Cadiz/DVIDS
Image: Carter and India's Minister of Defense Manohar Parrikar observe flight operations as they tour the USS Dwight D Eisenhower. Photograph: Senior Master Sgt Adrian Cadiz/DVIDS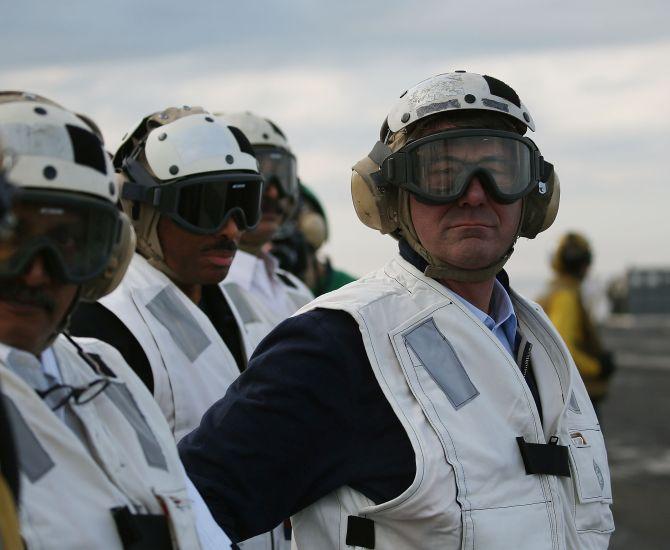 Image: Carter along with Parrikar watches as a F18 Super Hornet launches from the flight deck of the USS Eisenhower off the coast of Virginia, in the Atlantic Ocean. Photograph: Mark Wilson/Getty Images
Image: Parrikar along with Carter inspect a jet engine in the hanger deck of the USS Eisenhower. Photograph: Mark Wilson/Getty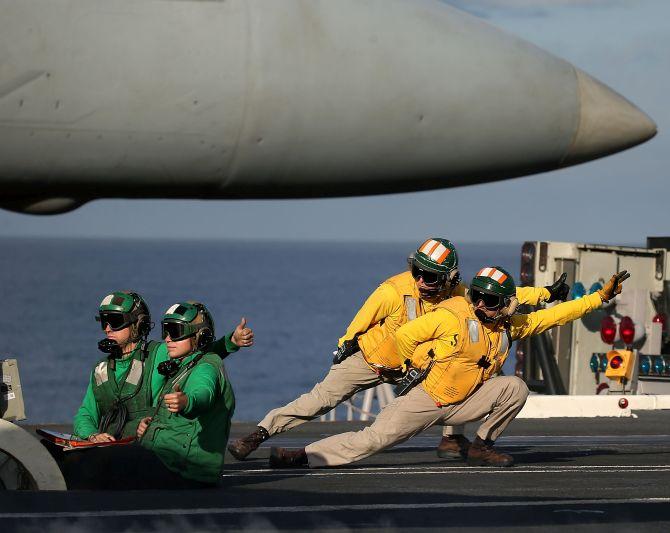 Image: A flight deck crew prepares to launch a F18 Super Hornet from the deck of the USS Eisenhower. The USS Eisenhower was commissioned on October 18, 1977. The ship is nicknamed 'Ike'. Photograph: Mark Wilson/Getty Images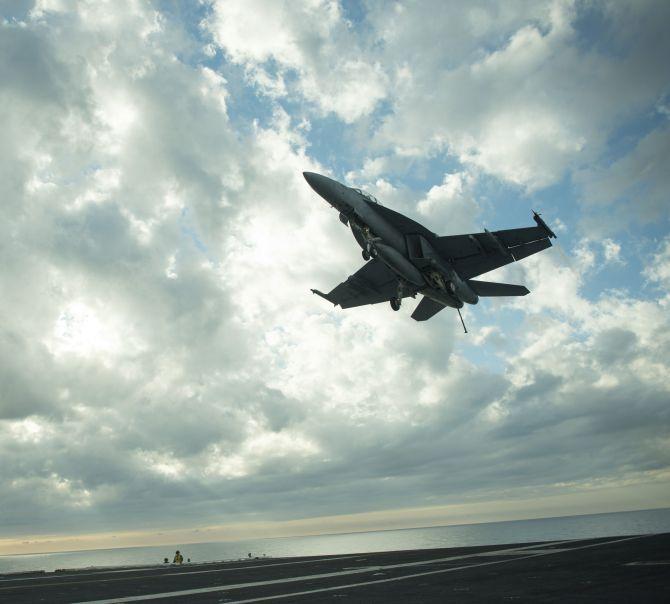 Image: An F-18 Hornet prepares to land on the USS Dwight D Eisenhower. The 1,092-foot-long, 95,000-ton USS Dwight D Eisenhower returned to sea in late August after spending 23 months in what the Navy calls a "dry-docking planned incremental availability". Photograph: Senior Master Sgt. Adrian Cadiz/DVIDS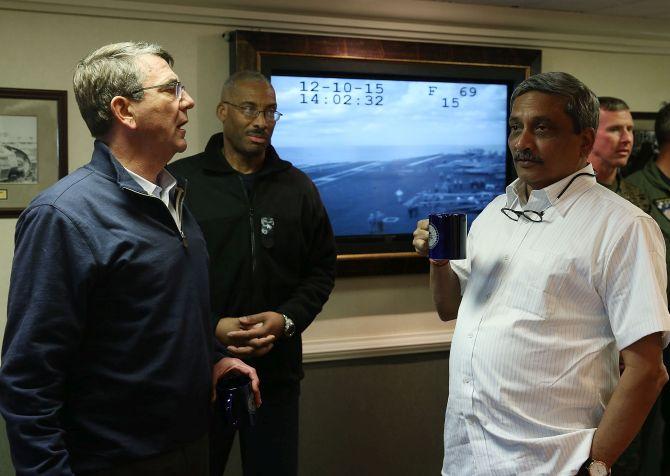 Image: US Defense Secretary Ash Carter talks with India's Defence Minister Manohar Parrikar, as Rear Admiral Jesse A. Wilson (2ndL) stands nearby, on the USS Eisenhower. Photograph: Mark Wilson/Getty Images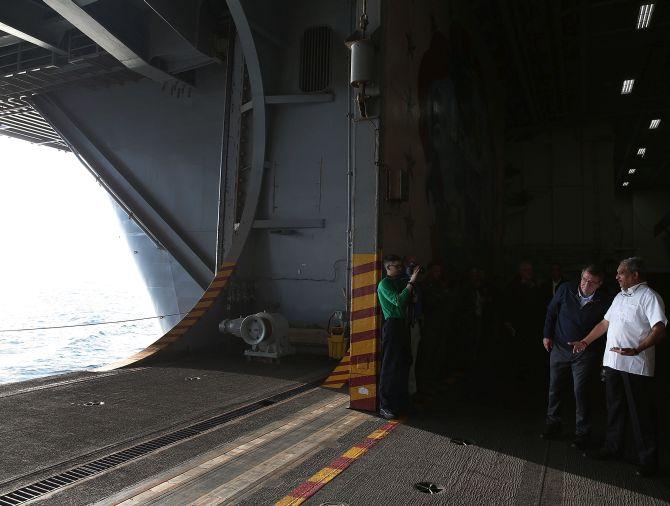 Image: Parrikar and Carter stand in the hanger deck of the USS Eisenhower. Photograph: Mark Wilson/Getty Images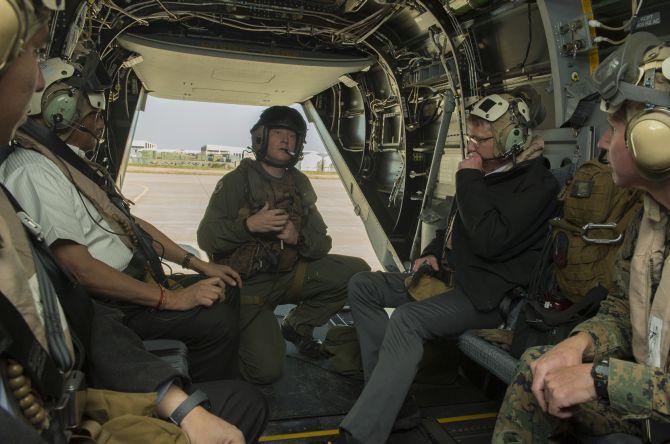 Image: Ash Carter and Manohar Parrikar fly out to the USS Dwight D Eisenhower on a MV-22 Osprey in order to tour the aircraft carrier. Photograph: Senior Master Sgt. Adrian Cadiz/DVIDS