Women pilots will soon fly fighter jets of the Indian Air Force, Air Chief Marshal Arup Raha said on Thursday.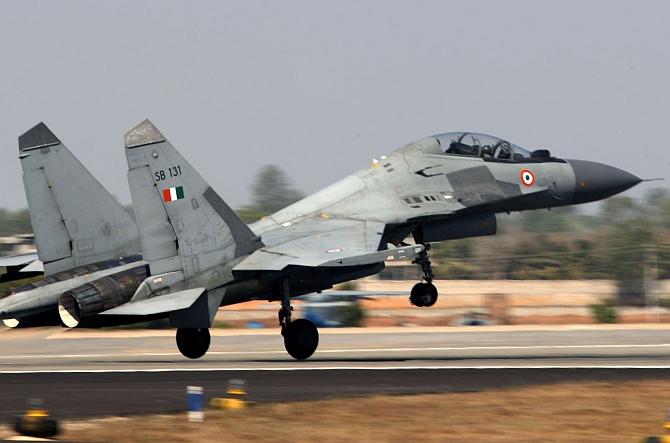 "We have women pilots flying transport aircraft and helicopters, we are now planning to induct them into the fighter stream to meet the aspirations of young women of India," the air chief on the 83rd Air Force Day.
IAF @ 83: Air Force puts up a grand show
"We have a lot of women officers in the air force. If you take the comparison of the three services, proportionately, the Indian Air Force has the highest number of women officers," Raha said.
"They are performing duties in all the branches, including flying branch. We have about 110 of them flying helicopters and transport (aircraft)," he said.
He said that unlike the army and navy, the air force operates in a different environment.
"We operate from bases, so women have a good opportunity to fly fighters," he said.
Raha said IAF has been taking up the case with the government arguing that they would like to give opportunity to young women to fly fighter planes.
"They are all capable. They have been doing well in every field. So this is an aspiration of the young Indian women and we would like go along with this because it is a progressive step. We want to progress forward," he said.
The IAF chief said that there are air forces in the world which have women pilots in the fighter aircraft stream. "So this is a considered decision," he said.
Asked for a timeline on induction of women fighter pilots, he said it is their effort to see women flying fighters planes "as soon as possible".
"We have spoken to the Ministry of Defence. Our case is in the ministry. And I think it will be sanctioned. The faster the approval comes, the faster we would be successful in this endeavour. I think, within one year, we would be able to give the opportunity to women and see them as fighter pilots," he said.
However, he said that figher pilot training takes long and hence it will take at least three years for women fighter plane pilots to become completely operational.
Replying to another query on physical fitness issues for women, he said these can be overcome.
"I am sure they will prove themselves well even in this profession," he said.
The plan to induct women into a fighting arm is a first in the three services which were earlier not open to the idea of women taking part in combat role.
IAF currently has women in seven areas of administration, logistics, meteorology, navigation, education, aeronautical engineering -- mechanical and electrical -- and accounts.
Some of them have even flown sorties of AN-32 aircraft to Daulat Beg Oldi in Ladakh, the world's highest advanced landing ground at 16,500-feet, as well as IL-76 heavy-lift aircraft to Leh.
Also, Squadron Leader Deepika Misra recently stormed a fiercely male bastion by joining the helicopter display team 'Sarang'.
The air force currently has about 1,500 women on its rolls of which 94 are pilots and 14 navigators.
The move is in sync with global trends and will help IAF overcome shortage of officers in the fighter aircraft stream.
Rediff Recommends: 'I flew every day of the war'