Defence Minister Manohar Parrikar expects to see progress in India-US defence relations at the speed of a year per month.
Aziz Haniffa/Rediff.com reports from the Pentagon.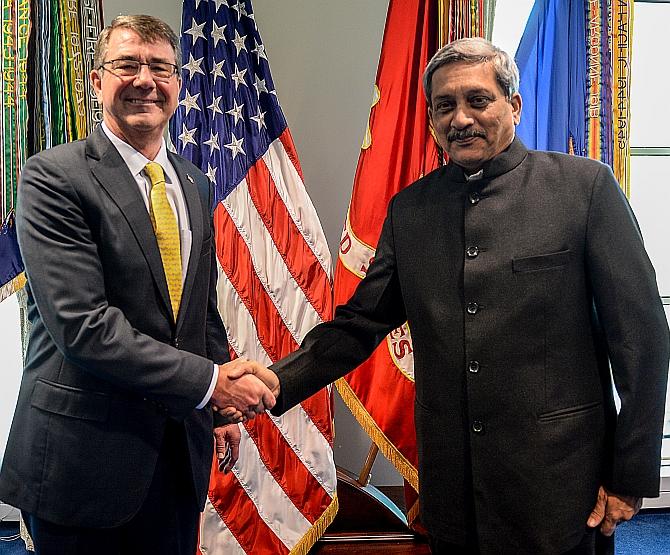 United States Secretary of Defence Dr Ashton Carter and Defence Minister Manohar Parrikar before their meeting at the Pentagon. All photograph: US Department of Defence
United States Defence Secretary Dr Ashton Carter has predicted that an expanded India-US defense partnership will become "an anchor of global security," and declared that a "common future between the United States and India is destined."
Appearing at a press interaction with his Indian counterpart Manohar Parrikar, Dr Carter, the author of the US-India Defence Technology and Trade Initiative, said: "What we see going on between our two nations is a handshake of two complementary initiatives -- India's Make in India Policy and the Defence Technology and Trade Initiative -- and also India's Act East policy and America's rebalance to the Asia-Pacific."
The DTTI, he argued, is imperative "in realising the potential of our partnership" as it "fosters technology cooperation, works to build industry to industry ties, and identifies opportunities for the co-development and co-production of defence systems."
"Minister Parrikar and I discussed the progress that has been made toward the cooperation on jet engines and aircraft carrier design and construction, as well as opportunities to cooperate on additional projects of interest, which will also further Prime Minister Narendra Modi's Make in India policy," Dr Carter added.
Both sides "discussed the importance of expanding our military engagements -- from the annual Malabar Naval Exercise this year to India's participation in the Rim of the Pacific Exercise next year, and return for the first time in eight years of Red Flag, the premier air-to-air combat exercise."
Dr Carter recalled how "honoured he was to have been the first US Defence Secretary to visit an Indian Operational Military Command when I went to Vizag (Visakhapatnam). So, I am pleased that on his way to Washington, Minister Parrikar was able to meet senior military leaders in Hawaii, becoming the first Indian defence minister to visit the US Pacific Command."
"Later in the afternoon (December 10)," he noted, "we will observe live flight exercises from the USS Eisenhower, making Minister Parrikar the first Indian minister to go aboard a US aircraft carrier."
"This," Dr Carter pointed out, "speaks not just to our important aircraft carrier technology cooperation, but to our expanding cooperation in maritime security as well."
"Of course, the Indo-Asia Pacific is one of the most consequential parts of the world for America's future, and we welcome India's rise as a security partner in the region -- a region, where half of humanity lives and half of the world's economic activity takes place. This is a relationship that will be critical in strengthening the Indo-Asia-Pacific security architecture, so that everyone there can continue to rise and prosper."
Dr Carter and Parrikar at a press conference in the Pentagon Briefing Room.
Parrikar -- obviously happy with the red carpet rolled out for him, which included an honour cordon on the steps of the Pentagon's River Entrance before he began his discussions with Dr Carter, and the anticipation of being on the USS Eisenhower to view flight operations while the aircraft carrier is at sea -- declared, "I am delighted to be in the US -- this is my first visit to your great country as defence minister."
"We exchanged views on global and regional security issues and we noted the good progress made under DTTI -- this is an issue to which both sides attach great importance," Parrikar, an alumnus of IIT-Bombay, said.
India, the minister added, owed a debt of gratitude to Dr Carter for conceiving the DTTI and his "personal commitment is shaping up this initiative."
"Today, India, I am pleased to say, is conducting more military exercises with the US than any other country," the minister added. "Our cooperation in maritime security is also becoming stronger, especially in the Indian Ocean region where India is playing its due role and responsibility of net security provider."
"The issue of terrorism," Parrikar acknowledged, "was a key topic of discussion in all of my engagements. Terrorism has become a global phenomenon and requires a comprehensive response. Terrorists of all shades and affiliations must be countered without any differentiation."
Asked if India would consider being part of the US-led coalition to fight ISIS, Parrikar said any such anti-terrorism campaign against the terrorist group would only be under the auspices of a unanimously approved United Nations programme.
"India's policy on terrorists has been the same -- there has been no change in that policy," he said, and noted, "while we share intelligence, we believe that whatever role India has to play, will be under the UN-approved programme."
Consequently, Parrikar reiterated, "So, there is no change in that now, but we are sharing intelligence and we don't mind a step further in sharing the information."
Asked about the vision for taking the India-US defence cooperation forward, Parrikar said: "What we have achieved in the last 15 months or more so, since June 2014 through 2015, is remarkable."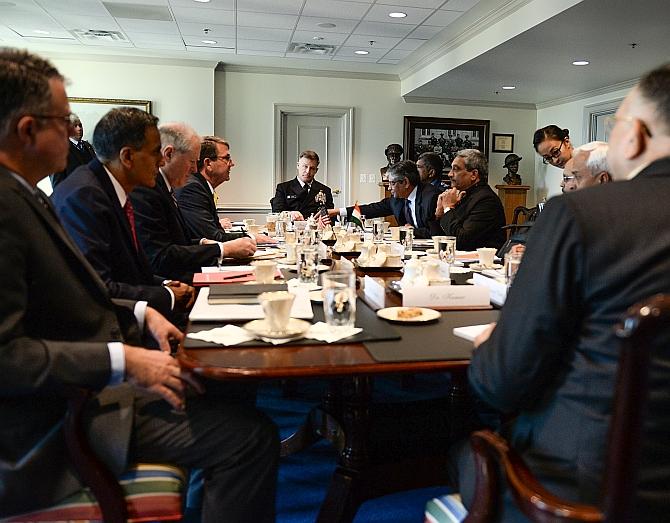 Dr Carter and Parrikar at the Pentagon.
"I expect to progress at the speed of a year per month," he predicted. "So what we have achieved in 50 years, probably we may be able to achieve in the current tenure of the next 30, 40 months."
Dr Carter seconded Parrikar's optimism and acknowledged, "The pace is picking up. We have done so much in the last year, probably than we have done in the 10 years before that and I am guessing in the next 10 months, we will do yet again, more than we have done in the last year."
"These," the secretary explained, "are not only larger projects, but they are of different character, and that is what DTTI is all about -- it is about projects in which we work together, sharing technology and sharing production, which is good for our companies and good for our technology base, consistent with the Make in India, a policy of Prime Minister Modi."
"For all these reasons," Dr Carter predicted, "we are being carried in this direction, inexorably, and our job is to make it go faster and that's what we are doing."
When a reporter asked Parrikar when India was going to walk the talk in terms of accelerated defence cooperation with the US, the minister bristled and shot back: "We are doing more than walk the walk."
When Dr Carter first put forth the DTTI, he said, the first three to four months had not generated much enthusiasm, but now, "the matters are clear, the objectives are clear, and we have already concluded two of the items -- there are six on board -- and two more are in the final stages, but many more are coming. I think this initiative with a timeline of six months, you will see so many defence initiatives, technology transfers, US companies setting up production facilities in India."
However, Parrikar conceded, that "of course, decisions on setting up facilities may take a longer time, but decisions on those are coming through."
Parrikar apprised Carter as well as defence industry officials and manufacturing enterprises he had met with, at a meeting hosted by the US-India Business Council in collaboration with the Confederation of Indian Industry and the Federation of Indian Chambers of Commerce and Industry, of the key policy decisions taken by his government in the defence sector.
These included "the increase in foreign direct investment limits to 49 percent, liberal offset policies and the ease of doing business. We feel the recent policy initiatives have opened up immense opportunities for US companies to set up their manufacturing enterprises in collaboration with Indian companies."
Parrikar also met with Senator John McCain, Arizona Republican and chairman of the Armed Services Committee and other members, and said he was thrilled to have visited the US Pacific Command in Hawaii and to have 'participated in the Pearl Harbor commemorative ceremony, besides having interactions with officers of the Pacific Command."