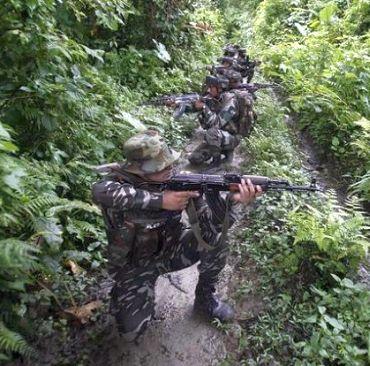 In the first such cross-border operation, special forces of the army in coordination with the air force on Tuesday carried out a surgical strike inside Myanmar, killing nearly 20 insurgents of the groups believed to be reponsible for the deadly ambush in Manipur that killed 18 soldiers.
Elite commandos of the army went a few kilometres inside the Myanmar territory to destroy two camps of insurgents hiding there after their attacks in Manipur and Arunachal Pradesh last week by Nationalist Socialist Council of Nagaland- Khaplang and Kanglei Yawol Kanna Lup outfits.
The operation was guided by "specific and precise" intelligence input, highly placed sources said.
About 15 to 20 insurgents were killed in the assault, the sources said, adding there were no casualties among the Indian soldiers.
Commenting on the operation, MoS Information and Broadcasting Rajyavardhan Singh Rathore, a former colonel, said, "We crossed over to the Myanmar territory. We have good relations with them and we carried out the strike."
Disclosing the operation, Major General Ranbir Singh, additional director general military operations, said army had been on "high alert" after Manipur attack on June 4.
In the course of last few days, "credible and specific intelligence" was received about further attacks that were being planned within Indian territory.
"These attacks were to be carried out by some of the groups involved in earlier attacks on our security personnel and their allies," he told reporters while briefing on the operation without taking any questions.
"In view of the imminent threat, an immediate response was necessary. Based on intelligence, we conducted operations to counter these planned assaults," Maj Gen Singh added.
Rathore asserted that "any threat to our security, safety and national integrity will meet a firm response" while ensuring peace and tranquillity along the border and in the border states.
He said while the army carried out the strike, helicopters were on standby. He described the strike as "unprecedented and extremely bold" by the government as Prime Minister Narendra Modi had ordered hot pursuit in two camps were completely annhilated.
While Maj Gen Singh said the operation was carried out "along the Indo-Myanmar border at two locations, along the Nagaland and Manipur borders", sources said the strike was carried out inside Myanmar with the coordination of local authorities.
Asked whether such strikes could be carried out on the western border also, Rathore said, "western disturbances will also be equally dealt with". "This is a message to all such neighbours who harbour terror intentions. Friendship and zero tolerance (towards terror) will go hand-in-hand. This is a beginning. This message should go to everyone," the minister said.
This is the first time that the Indian Army carried out a cross-border commando action, which marks the pro-active approach against terror, sources said about the retaliation planned ever since the insurgents struck in Manipur.
As part of an exercise to fine-tune the strike, National Security Adviser Ajit Doval had dropped out of Prime Minister Narendra Modi's June 6-7 visit to Bangladesh, the sources said.
The sources said the operation was guided by "specific and precise intelligence" and there was a heavy exchange of fire between the commandos and insurgents.
"Significant casualties have been inflicted on them (insurgents). As a consequence, threats to our civilian population and security forces were averted," Maj Gen Singh said.
The sources underlined that it was a retaliatory action after the deadly ambush in Chandel in Manipur on June 4 when 18 soldiers were killed.
It was noticed that insurgents would sneak in from across the border to carry out their strikes and then return there, they said while justifying the cross-border assault.
"We are in communication with the Myanmar authorities on this matter. There is a history to close cooperation between our two militaries. We look forward to working with them to combat such terrorism," Maj Gen Singh said.
NSCN-K, which reneged from a ceasefire in March, has been involved in a series of attacks in tandem with some other militant groups under the banner of the so-called United Liberation Front of South East Asia.
NIA siezes IED, shells from Manipur ambush scene
Meanwhile, a National Investigating Agency team on Tuesday seized some Lethod gun shells and an unexploded Improvised Explosive Device from the scene of gruesome killing of 18 army personnel in Manipur's Chandel district.
The NIA, which has taken over the case from Manipur police, conducted a thorough search of the area, five days after the attack, the worst on the army in recent times, official sources said.
They said the IED was defused by explosives experts from the army.
Naga insurgent outfit Nationalist Socialist Council of Nagaland-Khaplang had in a release dated the day the attack took place, claimed responsibility for the ambush which left 18 army personnel dead and 10 others injured.
The militant outfit in the release claimed the attack was a joint operation by it, Kanglei Yawol Kanna Lup and Kangleipak Communist Party.
NIA has taken over the case from Manipur police and registered a case in the agency's Guwahati branch under various sections of the Indian Penal Code, Arms Act and Unlawful Activities (Prevention) Act.
According to the intelligence reports, United Liberation Front of Assam's fugitive chief Paresh Baruah, who is alleged to be operating at the behest of China's People's Liberation Army, is believed to have convinced NSCN-Kleader S S Khaplang to snap the ceasefire agreement with Indian government in March last year.
Khaplang and Baruah are believed to be often shuttling betwen Taga (Myanmar) and Ruili and Kunming -- both in Yunnanprovince of China -- and are in regular touch with Chinese officials.