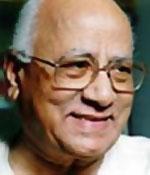 'Poornam' Viswanathan, actor and former Tamil News reader with All India Radio who announced India attaining freedom in his news bulletin in 1947, died in Chennai on Wednesday after brief illness.
The 87-year-old actor died of multiple organ failure at a private hospital, hospital sources said.
Though known to many for his acting prowess as a stage artiste and later in Tamil cinema starring alongside top stars like Kamal Hassan and Rajinikanth, Viswanathan started his career at AIR where he first announced to the country that it had attained freedom from the British.
The actor himself had recalled that moment when he said that he got emotional for two reasons -- his country had achieved freedom, and he had the "privilege" to announce it to the world.
AIR, during the Golden Jubilee Independence Day celebrations, had honoured him by asking him to read a news bulletin.
"India is a free country," was his first sentence.
Viswanathan was a regular in famous director K Balachander's films, including Thillu Mullu, the Tamil version of the Amol Palekar- starrer Gol maal and Ninaithaale Inikum.
Viswanathan was a favourite of mimicry artistes who mimicked him for his peculiar style of dialogue delivery, which became more prominent after his role as an associate of Kamal Hassan in his 'Mahanadi'.
The title Poornam came from the drama troupe he was associated with.
Also read: Our interview with Poornam Vishwanathan