After each massacre, survivors and witnesses have echoed the words "no more" — yet mass shootings have continued to plague the United States.
In fact, shootings only have continued to increase over the past few years.
The shooting at Marjory Stoneman Douglas High School in Florida is the 18th attack in a school in 2018 alone.
Below are some of the worst US school shootings in the last 20 years.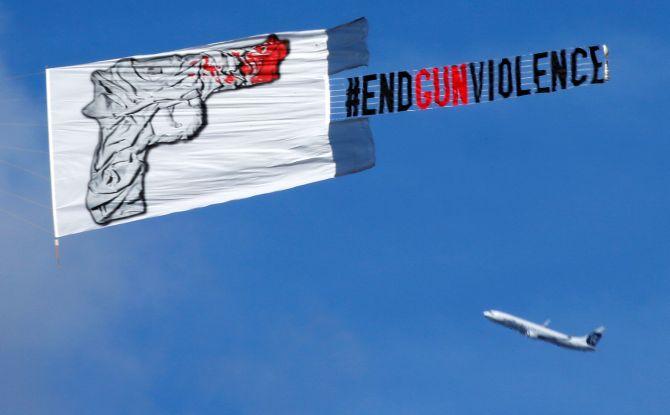 IMAGE: According to official figures, 46 children are shot at each day in the United States.
Photograph: Carlo Allegri/Reuters
Sandy Hook Elementary School
Connecticut
December 14, 2012
In December 2012, 26 people were killed, including 20 schoolchildren aged 5 and 6, inside the Newton, school after Adam Lanza, a 20-year-old entered and opened fire. The gunman killed his mother before heading to the school. After the heinous shooting, he killed himself as police closed in.
Virginia Polytechnic Institute and State University
Virginia
April 16, 2007
Gunman Seung-Hui Cho slaughters 32 people and kills himself at Virginia Polytechnic Institute and StateUniversity, popularly known as Virginia Tech. At the time it was the deadliest shooting carried out by a single gunman in US history.
Red Lake Senior High School
Minnesota
March 21, 2005
A 16-year-old high school student Jeffrey Weise, kills seven people including his grandfather, a tribal police officer, and wounds several others in a shooting rampage after killing two people off-campus. He then kills himself.
Columbine High School
Colorado
April 20, 1999
Two high school students, ages 17 and 18, opened fire in their school, murdering 12 of their peers and one teacher. They injured 21 additional people, and three more were injured while attempting to escape the school. After exchanging fire with responding police officers, the pair of killers subsequently committed suicide.
University of Texas
Austin
August 1, 1966
A former US Marine sharpshooter, 25, opened fire at the University of Texas in Austin. The gunman positioned himself on the observation deck atop the U.T.Tower and shot his targets one-by-one. He killed 14 people and wounded 31 others. He also killed his wife and mother before the attacks. The massacre ended when police located the shooter and fatally shot him.