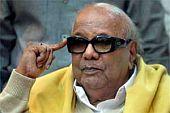 With speculation rife about a Union Cabinet reshuffle, Union minister V Narayansamy met Dravida Munnetra Kazhagam chief M Karunanidhi, a key ally of the United Progressive Alliance.
This is the second time in a month that Minister of State in PMO Narayanasamy has met the DMK patriarch, whose party is the largest ally of Congress with 18 Lok Sabha members after the exit of Mamata Banerjee-led TMC.

It was not known what transpired during the meeting held at Karunanidhi's CIT Colony residence. DMK sources said it was a one-to-one meeting between the two leaders.
Naryanasamy had late last month met Karunanidhi as Prime Minister Manmohan Singh's emissary during which he broached the issue of filling up two cabinet slots remaining vacant since the resignation of DMK members A Raja and Dayanidhi Maran over telecom scams.
However, Karunanidhi had later ruled out nominating party representatives to fill the vacancies.
Also, in an embarrassment to UPA, Karunanidhi had extended his party's support to the September 20 nation-wide bandh called by opposition parties against the Centre's decision to allow FDI in retail trade and increase the diesel price.

Thursday's meeting also assumes significance as it comes days after Narayanasamy had expressed confidence that the DMK which is opposing FDI in multi-brand retail could be taken on board by explaining the positives of the big ticket economic reforms.