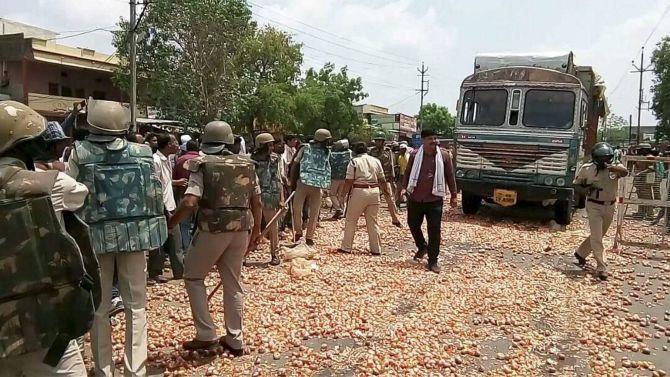 Mandsaur, the epicentre of farmers' agitation in Madhya Pradesh, was peaceful on Friday but the violent protests reached the doorsteps of the capital Bhopal even as Chief Minister Shivraj Singh Chouhan announced an indefinite fast from Saturday for restoration of peace.
He said he would be available at the Dussehra Maidan from 11 am for farmers to come and discuss their issues but asserted that unruly elements would be dealt with strictly.
A wary central government, meanwhile, asked states adjoining Madhya Pradesh to keep strict vigil against the spread of farmers' protest.
The central government is in touch with states such as Uttar Pradesh, Rajasthan and Maharashtra, and sensitising them against any possible protest by farmers, officials said in Delhi.
In Mandsaur district, where five farmers were killed in clashes with police on Tuesday, curfew was relaxed for eight hours from 10 am to 6 pm but no untoward incident was reported, Superintendent of Police Manoj Kumar Singh said.
In view of the improvement in the situation, curfew will be relaxed for 12 hours on Saturday from 8 am to 8 pm in Mandsaur city and Pipliamandi but police said restrictions on movement of people will continue.
However, no protest, rally or demonstration will be allowed during the curfew relaxation period tomorrow as well as on June 11 when farmers have announced a protest, Collector O P Srivastava said.
As shops re-opened, locals stepped out to stock essentials like vegetables and milk. Long queues were also seen outside petrol pumps.
However, the agitation reached the doorsteps of Bhopal as incidents of arson and stone-pelting were witnessed in Fanda area, about 20 kms from the state capital.
Police baton-charged the protesters and arrested at least 27 of them in the area.
"Some unidentified persons set a truck on fire near a spot where Congress workers were protesting. Then some men hurled stones at the policemen present there," Deputy Inspector General of Police Raman Singh Sikarwar said.
The SP said the police will not let their guard down and strict action will be taken against those who try to violate prohibitory orders under CrPC 144 which bans assembly of more than four persons. Special permission will be required for weddings or other functions .
At least 156 people have been arrested and 40 cases registered in connection with violence during the farmers agitation.
The SP said police is trying to identify the culprits by going through the video clips of the incidents of violence.
The Centre had rushed 1,100 personnel of the RAF to the violence-hit state.
Two companies of the RAF, each comprising 100 personnel, were deployed in Pipliamandi in Mandsaur, where five farmers were killed in police firing on Tuesday. Two RAF companies were deployed along the highway. Contingents of the CRPF have also been deployed.
In Bhopal, a visibly-upset chief minister told a hurriedly-convened press conference this evening that ensuring people's safety was his 'Rajdharma' and that he was not flint-hearted.
He said the agitation has gone "anarchic" and appealed to the farmers to come to the negotiating table.
"I will sit on indefinite fast from 11 am tomorrow at Dussehra Maidan for restoration of peace," he said.
"I will be available at the Dussehra Maidan. I welcome all farmers to come there for resolving the impasse peacefully through an amicable dialogue with me. I won't sit in my office at Mantralaya (secretariat)...(but sit at) Dussehra Maiden and do all work from there," he added.
Chouhan said anyone trying to ignite the flames of violence would not be spared.
"I am deeply saddened that stones are being placed in the hands of young people aged 18, 21 and 22 by some persons during attempts to stage road blockades. It is painful that these young people are our own and the elements leading them are also our own," he said.
Chouhan, who has been the chief minister for the last 11 -and-a-half years, said that whenever farmers were in distress due to loss of crops following a natural calamity, he had rushed to them and comforted and helped them.
The state government has started buying onion for Rs 8 per kg from the farmers, while Moong and Urad pulses too will be bought at minimum support price, the CM said.
A commission will be set up to work out the cost of production of farm produce and a Rs 1,000 crore fund will be created to help farmers when prices crash, the CM reiterated.
Another farmer dies, injuries found on body
A 26-year-old farmer died in Badavan village of Mandsaur district, with locals on Friday alleging that he was beaten up by policemen.
In Indore, sources in MY Hospital, where the farmer was taken on Thursday night, said he was brought dead and that his body bore signs of assault.
However, police said the circumstances of his death were unclear and they were investigating the matter.
This is the sixth death of farmer reported in the district.
According to villagers, the farmer Ghanashyam Dhakad was on his way to a temple on Thursday evening when some policemen stopped him and thrashed him with sticks.
The farmer was taken to the MY Hospital in Indore where he died, they said.
Mandsaur SP Manoj Kumar Singh and Collector O P Srivastava reached the spot on Friday and talked to villagers there.
The collector said the cause of his death was being investigated.
Angry villagers in the area claimed that they were being beaten up and arrested by the police without cause. The SP assured them that their grievances would be looked into.
Former MP and Congress national secretary Sajjan Singh Verma reached the hospital on Friday and demanded a probe into the matter.
He alleged that the farmer was beaten to death.
Three associates of the farmer -- Dinesh Malwi, Shivnarayan Malwi and Ganesh Malwi -- are also missing, the Congress leader alleged.
He said police should find out their whereabouts. He also demanded a murder case be registered against the SP in the matter.
A panel should be formed to carry out the postmortem and the entire process should be videographed, he said.
Former Congress MP Meenakshi Natarajan, who is at the spot, said she would meet the SP to demand compensation for the deceased farmer. PTI CORR/HWP
IMAGE: Farmers throwing onions and other vegetables on the road during their protest in Shajapur of Madhya Pradesh on Thursday. Photograph: PTI Photo