A day after an overbridge collapsed at a railway station in Mumbai's suburban Andheri area, the Western Railway restored its train services on Wednesday, though the trains were running slightly late due to speed restrictions.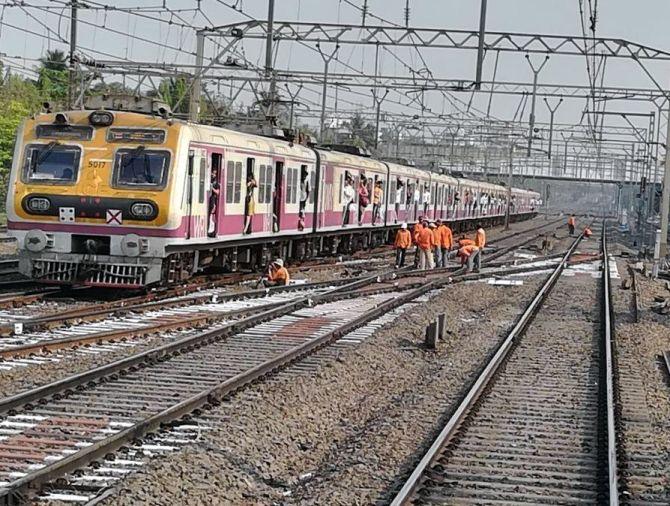 A part of the 47-year-old Gokhale overbridge collapsed on Tuesday, halting the local train services on the Western line.
Around 700 railway employees, helped by experts from Delhi and Lucknow, were pressed into action, following which the services resumed.
"Up slow line between Andheri & Vile Parle also restored at 1.00 hrs. Now, trains running on all lines in this section. WR suburban services are running normal with some delay due to speed restriction of 20 kmph near Andheri in view of Safety (sic)," the Western Railway said in a tweet.
Mumbaikars, especially the office-goers, heaved a sigh of relief as the train services were restored.
Meanwhile, of the five people injured in the incident, four were stable while the condition of a 35-year-old woman, identified as Asmita Katkar, was critical, a doctor at the Cooper Hospital here said.
"Katkar was brought to the hospital in an unconscious state after she suffered severe head, facial and vascular injuries. She has brain hemorrhage and has undergone surgery. She is critical," the dean of the hospital, Dr Ganesh Shinde, told PTI.
Katkar was on her way home after dropping her son to school when she fell from the bridge as it collapsed.
Railway Minister Piyush Goyal visited the accident site on Tuesday and ordered an inquiry by the Commissioner of Rail Safety, Western Railway, who was asked to submit a report within 15 days.
The minister said the last safety audit of the Gokhale bridge was conducted on November 12 last year and nothing wrong was found.
Goyal also informed that over the next six months, a joint safety audit will be conducted by the railways, the Brihanmumbai Municipal Corporation and the Indian Institute of Technology, Mumbai of the 445 road overbridges, foot overbridges and bridges over pipelines in the city.