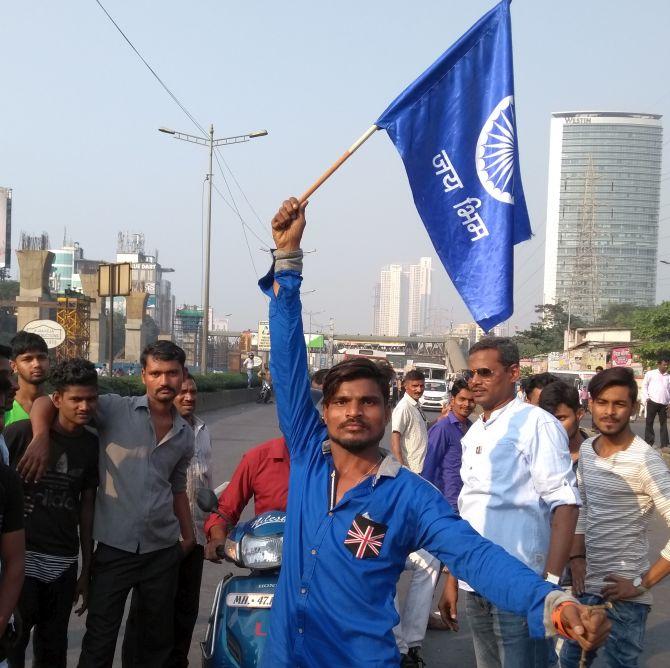 The Congress on Wednesday accused the Bharatiya Janata Party and the Rashtriya Swayamsevak Sangh of fuelling violence against Dalits and demanded that Prime Minister Narendra Modi make a statement in Parliament clarifying his stand on the Bhima-Koregaon incident in Maharashtra.
The party also demanded the formation of a commission of inquiry by a sitting Supreme Court judge on the clashes between Dalit groups and supporters of right-wing Hindu organisations during the 200th anniversary celebrations of the Bhima-Koregaon battle in Pune that left a man dead on January 1.
Leader of the Congress in the Lok Sabha Mallikarjun Kharge accused the BJP-RSS of "conspiring to divide people" on caste and religious lines, and asked the prime minister to make a statement on the issue in Parliament.
"The BJP and the RSS are fuelling and instigating violence against Dalits across the country. They conspire to divide people and society and create an atmosphere of illusion that only they are nationalists.
"We demand that the prime minister, who shows sympathy for Dalits during polls, should clarify his position inside Parliament on violence against Dalits," he told reporters outside Parliament.
Kharge also accused the BJP government in Maharashtra of having "failed" to control violence as it did not make proper arrangements in Bhima-Koregaon.
"We have demanded that a sitting judge of the Supreme Court should carry out a probe into the incident for an impartial probe. A commission should be set up to ascertain who were behind the violence and who instigated it," he said.
The Congress leader said the BJP government in Maharashtra has failed to make proper arrangements in Bhima- Koregaon that led to violence.
Leader of the Opposition in the Rajya Sabha Ghulam Nabi Azad dubbed the BJP and the RSS as "anti-Dalit".
He also accused the government of "suppressing" the voice of the opposition in Parliament as live proceedings of both Houses were not telecast and stopped. "We had given adjournment notice in the Rajya Sabha for taking up the issue of violence against Dalits in Maharashtra but our voice was suppressed and live telecast was stopped," he told reporters.
A Maharashtra bandh, called to protest the violence post an event to mark 200th anniversary of Bhima Koregaon battle, turned violent on Wednesday even as rail and road traffic was disrupted in the city.
On Tuesday, several towns and cities of Maharashtra were on the edge as Dalit protests against the violence in Pune spilled over to Mumbai, with agitators damaging buses and disrupting road and rail traffic.
Image: Dalits block the Goregaon highway in northern Mumbai. Mumbai came to a near standstill after a bandh was called to protest the violence at the event to mark 200th anniversary of Bhima Koregaon battle. Photograph: Rajesh Alva/Rediff.com